We could all use a regular dose of inspiration in our lives.
I am always inspired by people who are doing amazing things. But what is even more inspiring than that -- to me -- is how they got to where they are and what their particular perspective is in life.
I love a winner!
Come along as we talk to people about what it is that makes them great!
Featured Interview
TOM BURRELL, Marketing Communications Pioneer and Author



Tom Burrell is someone who tells it like it is and his new book Brainwashed is America's wake up call. Brainwashed provides a valuable opportunity for us to deal constructively with one of our ugly and unfortunate legacies; to finally talk about the elephant in the room in a way that could finally make a difference...

[»] Click here to read more.
Previous Interviews
Shari Johnson's book, Above All Things, was written as a result of her struggle as an evangelical Christian to come to terms with her daughter's homosexuality. Through this sometimes gut-wrenching, sometimes humorous, but always honest account of her journey, her desire is to help reconcile families torn apart over this issue. From her example, she hopes that readers will "have more sense than I did." Shari learned that grudging acceptance was not the same as embracing her daughter Cholene for who she is. She went from devastation to full-on joy when she finally grasped that the most important thing to God is love. It truly is above all things.
After ending a long career as a dental hygienist, Shari Johnson is pursuing her dream as a book editor and writer.
Shari Johnson currently lives in Odessa, Texas.
[»] Click here to read more.
LIZA GROSSMAN, Founding Music Director, Contemporary Youth Orchestra, Conductor



Liza Grossman is the founding Music Director of the Contemporary Youth Orchestra. She is on the conducting faculty at the Interlochen Center for the Arts and is the co-founder of the Interlochen Arts Camp Junior String Institute. She is a private violin and viola instructor and as a freelance musician, has performed, recorded and toured with artists including Bernadette Peters, Kansas, Peobo Bryson, The Irish Tenors, Gerald LeVert, The Three Tenors and YES. STRAD magazine has noted her as "a master of tutelage..."

Grossman has conducted world premiere concertos with Cleveland Orchestra members and local musicians as well as conducting over 30 orchestral world premieres, all with the composers present.

She has collaborated with composers including Jaz Coleman, Robert Ward, Joan Tower and Bernard Rands. She has conducted world premiere orchestral rock performances with rock artists Ray Manzarek (DOORS), Jon Anderson (YES), Graham Nash (CSNY), Neil Giraldo, Pat Benatar and STYX.

Grossman began her professional studies as a student at the Interlochen Arts Academy, (Michigan), as a violinist. She holds degrees in music performance and music education. Grossman's conducting teachers include David Holland, Alexander Schneider, Marvin Rabin and Gerard Schwarz.

Grossman and the Contemporary Youth Orchestra have been finalists for the Governors Award for the Arts in 2004, 2005 and 2006 and are the recipients of the 2003 Northern Ohio Live Award of Achievement in the Classical Music/Opera category.

[»] Click here to read the interview with Liza Grossman.
STAN BROCK, Former Host of Mutual of Omaha's Wild Kingdom and Founder of Remote Area Medical


Who hasn't heard of Stan Brock?
For years, Stan was a regular fixture in America's living rooms as co-host of Mutual of Omaha's Wild Kingdom.
That program hasn't been on the air for many years now - but the legacy remains. If you watch TV at all, or if you go to the movies, sooner or later you'll hear a reference to Wild Kingdom. One character will refer to another one as crazy as "that guy on Wild Kingdom who wrestles the snakes."
That's the Stan Brock Americans, young and old, have known and loved for years. But that is just one Stan Brock persona.
Stan grew up as a proper English schoolboy. At age 17 he moved to South America where he spent the next 15 years living on one of the world's largest working cattle ranches.
He eventually became manager of the ranch - and of its crew of Indian vaqueros.
It was his experience there that led naturally to his work with the animals of Wild Kingdom and numerous other television and movie projects. Stan also is a pioneer Amazon bush pilot, a noted authority on wildlife management and conservation, and an expert on rain forests and their inhabitants.
But for 25 years there was one haunting image that Stan couldn't get out of his mind - the isolated Indian families who had no medical care. When he lived there Stan provided what medical care he could as an educated, but non-medical person, but he always wanted to find a way to provide these people with the basic medical care that most of us take for granted.
He did it through an organization he founded called Remote Area Medical, an all-volunteer, airborne medical corps that takes skilled medical professionals from various parts of the developed world, to the undeveloped world.
RAM, as the group is called, has completed some 200 missions. RAM volunteer doctors, dentists, optometrists, and nurses have treated thousands of patients for everything from dietary decencies to cleft pallet surgery.. Volunteers sometimes often hundreds of patients in a single dawn-to-dusk day. RAM veterinarians work side-by-side with other volunteers to treat the dogs, cattle, and other animals of the people RAM serves.
[»] Click here to read the interview with Stan Brock.
MAHEN BONETTI, Founder and Executive Director of the African Film Festival



Mahen Bonetti was born in 1956 in Sierra Leone to a family that has experienced the ups and downs of post-colonial politics. Several of her relatives were forced into exile in the United States and England in 1970. Bonetti could only return in 1980 for the funeral of her maternal uncle, former Prime Minister Sir Albert Margai, who died in the United States. Bonetti received her bachelor of arts in administrative studies at Bradford College and pursued graduate studies in media communication at New York University. She worked at Young and Rubicam and at Newsweek's editorial and advertising division, before becoming founder and executive director of the African Film Festival Inc. in 1990. Her experiences led her to the conclusion that media could be used to encourage positive change in the world - not just to entertain, but also to educate.

"I know what Africa has given me and what she's capable of," says Bonetti. "Although everyone was talking about Africa at the end of the 1980s, there was no African voice." This paradox of culture - when images of starving African children flooded television screens while world music came into being and "African-American" emerged as a political concept of identity - led her to finding ways of fostering a cultural dialogue between Africa and the United States. Realizing that cinema would be the ideal medium for such a cultural exchange, she put all her energy into creating African Film Festival, Inc, whose mission is to educate and entertain, by promoting cross-cultural communication, cultural identity and understanding and to give Africa a voice in the twenty-first century.

[»] Click here to read more.
DENNIS WATLINGTON, Emmy Award Winning Writer, Film Maker and Author



Author Dennis Watlington possesses a charismatic magnetism that sets off sparks when he enters a room. As a teenager that electricity attracted best-selling author Gail Sheehy who subsequently included a chapter on Dennis in her 1976 landmark hit, Passages, describing him as a "spirit inextinguishable." That was true then and it is true today. Dennis' resilient heart challenged the limits imposed on a poor black child born in the Harlem projects and built a life and a career doing what many would label the impossible.

Dennis boarded the early Sixties integration train at the age of eleven, when he was selected to be part of a neighborhood boys club program that groomed ghetto children to receive scholarships to exclusive private schools. Criminal behavior clashed with a desire to reach some of the goals that whet his young appetite. Later, a chance meeting with a Hotchkiss School trustee changed the course of his life, and nine months later Dennis was attending one of the wealthiest boarding schools in New England.

After Hotchkiss, Dennis attended New York University.

In early 1979, he wrote and directed his first play, Bullpen, produced by the American Theater of Actors and founded People's Neighborhood Theater, a group committed to bringing diversity to the city's theatrical community.

Dennis had one more bout with hell, when in the early eighties he succumbed to crack. His addiction raged for several months until he entered a rehab determined to kick the addiction. On the road to recovery, he met with Gail Sheehy who suggested he write about his recent brush with destruction, and several months later Dennis chronicled his harrowing tale in "Between the Cracks" for Vanity Fair Magazine. The article was optioned by HBO for a television movie and Dennis was hired to write the screenplay. More opportunities followed in print journalism, and Dennis continues to write for Vanity Fair as well as the New York Times and American Way Magazine.

Dennis has written several Movie-of-the-Week scripts for the networks and ABC Daytime Drama, including All My Children, One Life to Live, and The City. He has several feature film credits.

For the past decade, the bulk of Dennis' work has been concentrated in documentary film. In 1994, he won an Emmy Award for writing The Untold West: The Black West for TBS. Dennis also produced and wrote Walter Rosenblum: In Search of Pitt Street, Sly and Jimi: The Skin I'm In, Unintended Consequences, Hospital at Ground Zero and Zahira's Peace. Zahira's Peace, winner of the 2005 Ciné Golden Eagle Award, is a documentary about a young woman injured in the Madrid terrorist bombing and was broadcast nationwide in Spain to commemorate the first anniversary of the March 11, 2004 attack.

Dennis' book, Chasing America: Notes of a Rock 'n Soul Integrationist is the work of a uniquely American individual. An articulate, funny, energetic optimist, Dennis' world is and always has been propelled by a "spirit inextinguishable." [»] Click here to read the interview with Dennis Watlington.


AUTHOR AND ADVOCATE, MICHAEL GABEL



Born and raised in St. Louis, MO, Michael G. Gabel studied English and Fine Art at Dartmouth College. He now lives in Los Angeles where he works as a writer and artist. His original work and criticism has been featured in Hyperallergic and Trendland.
[»] Click here to read more.
After earning a BA in English from The University of Maryland, College Park, he moved to Brooklyn, New York, where you can often find him walking the four blocks from the train to his apartment talking to himself. Well, not really talking to himself, but just repeating character names and plot lines he thought of on the train, over and over again, because he's afraid he'll forget it all before he gets home. When I Was the Greatest is his debut novel.

You can find his ramblings at IAmJasonReynolds.com.
[»] Click here to read more.
CHARLES REESE, TransMedia Artist



CHARLES REESE aka The Charles Reese Experience is a Washington D. C native who received his Bachelor's Degree from Morehouse College. Charles has numerous, television, film and theatre credits including the critically acclaimed Off-Broadway play "James Baldwin: A Soul on Fire" by the late playwright Howard B. Simon (5 New York AUDELCO Award Nominations). David DeWitt of the New York Times declared,"A Soul on Fire is funny, thrilling and wise buoyed by the passionate performance of Charles Reese in the title role. Reese has a vehicle worthy of his performance."
Additional THEATRE: "At Sunrise" (Attic Theatre), "Sable Rhapsody- A Murder At City Hall" (co-written with Irene Wiley at the Mark Taper Forum Annex), "Emmett Till-50 Years Later" (Highways), "The Griot Trio" (Aaron Davis Hall), "In Dahomey with Opera Singer Shirley Verrett" (New Federal Theatre); TV: "Law and Order", "Between The Lions," "The Chris Rock Show," "In The Heat Of The Night", and "Grapevine". FILM: "40" (Karga Seven Pictures) "Sippie" (AFI), "On The Low", "Escape to Heaven" and "Ruby Dreams".
In addition to serving as the Executive Curator for the literary canon of Emmy Award Nominated playwright/poet Howard B. Simon, Charles is also the principal/founder of Teeth & Eyes Communications -- a curatorial consulting venture which utilizes innovative theatrical events as a tool for tolerance, self-esteem, and audience development for the entertainment industry.
Charles currently plays the sardonic foil on the hit web series "WHO" available only at www.ajakwetv.com.
[»] Click here to read more.
MARTY SYJUCO Documentary Filmmaker



On a stormy night in July 1997, two young girls waiting for a ride at a shopping mall disappear without a trace... Simultaneously a murder-mystery and an exposé of endemic corruption in the post-Marcos Philippines, GIVE UP TOMORROW centers on the trial of Paco Larrañaga, a young Mestizo (of Spanish descent) accused of killing two Chinese-Filipino sisters on the island of Cebu. Capturing how a rapacious media circus stoked ethnic and class hatred to prejudice public perception, the film reveals the extraordinary judicial violations that resulted in Paco's death sentence. Secret filming from Paco's cell exposes the appalling conditions of Filipino prisons, where thousands like him languish without fair trial. This story is intensely personal with far-reaching global implications: Paco's case was eventually championed by international human rights groups, including the UN; their efforts eventually led to the abolishment of capital punishment in the Philippines, saving hundreds of inmates whose possible innocence may have been disregarded by flawed judicial and social systems. ~ Courtesy of Tribeca Film Institute

[»] Click here to read more.
Pierce Word was born in Chicago and completed his BA in Middle Eastern Studies at the American University in Cairo. Upon returning to the States, he pursued graduate studies at the University of Chicago, as well as Boston University. Over a 3 year period, he researched and cross-referenced speeches, letters and diaries of the American presidents, and compiled a collection of presidential quotations, the largest published collection to date. He currently lives in Chicago, Illinois.
[»] Click here to read the interview with Pierce Word.
ROSETTA HOPKINS, Nurse and Author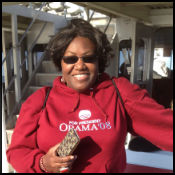 Rosetta L. Hopkins, a registered nurse in Chicago, wanted to know, so she interviewed Black skilled and unskilled workers, professionals, and retirees of all ages and from different parts of the country. Their varied responses range from predictable to surprising. She compiled all of them - some brief, others more contemplative - in her new book, "Somebody in the White House Looks Like Me."
[»] Click here to read more.
RUBEN SANTIAGO-HUDSON, Tony Award winning actor, director, writer and producer



Ruben Santiago-Hudson is a gifted and accomplished actor who is also a force of nature. He moves easily among the worlds of theatre, film, and television and has amassed important credits in all of these fields.

Ruben received the 1996 Tony Award for Best Featured Performer in August Wilson's acclaimed Seven Guitars. He made his Broadway debut as Buddy Bolden opposite Gregory Hines in Jellys Last Jam. His feature credits include Bleeding Hearts directed by Gregory Hines, Blown Away with Jeff Bridges, Paramounts Coming to America, TNTs Which Way Home with Cybil Shepard, and Showtimes unique production, Solomon and Sheba, with Halle Berry and Jimmy Smits.

Ruben has many television and films roles to his credits including his role as Captain Billy Cooper on the daytime drama Another World for which he is widely recognized.

Ruben was born in Lackawanna, New York. His father was Puerto Rican and his mother black, but the landlady, whom he refers to as Nanny, raised Ruben with the assistance of his godparents. He received a B.A. in Theatre from S.U.N.Y. Binghamton, and an MFA from Wayne State University. He has lectured on theatre at colleges and universities and served as a private acting coach, but it was Ruben's experience of managing his own theatre company in Detroit that brought him to New York. Theatre performances have led him to stages across the United States and Europe. Off-Broadway he has often appeared in The Negro Ensemble Company Productions including Ceremonies in Dark Old Men and A Soldiers Play.

Santiago-Hudson lives in New York with his wife Jeannie, and their twins, Lily and Trey. He also has two older sons. Ruben has a great appreciation of music and can play a mean harmonica. In his spare time, Ruben devotes himself to the causes of underprivileged children.

[»] Click here to read the interview with Ruben Santiago-Hudson.
AUTHOR AND URBAN FARMER, NOVELLA CARPENTER



A child of back-to-the-land hippies, I grew up in rural Idaho and Washington State. I went to University of Washington in Seattle where I majored in Biology and English. I've had many odd jobs including: assassin bug handler, book editor, media projectionist, hamster oocyte collector, and most recently, free-lance journalist.

I studied under Michael Pollan at Berkeley's Graduate School of Journalism for two years. My journalistic work reflects my interests–in farming, food, the environment, and culture. In a nutshell, I like to tell stories about people who follow unconventional paths.

As for the urban farmer in me, I've been cultivating the city for over ten years now, and my neighbors still think I'm crazy. It all started with a few chickens, then some bees, until I had a full-blown farm near downtown Oakland. My memoir about this farm was publishing by the Penguin Press June 11, 2009, and is available at most bookstores. [»] Click here to read more.
BROOK BELLO, Survivor of Sex Slavery, Filmmaker, Author, Actress, Advocate



Brook Bello; is a Survivor of Human-Trafficking which she calls (soul-assassination). She is also an author, public speaker, actress, film- maker and singer of a unique style of gospel contemporary music. Her story and movement was seen in several magazines and newspapers including feature stories in ESSENCE July, 2012 and EBONY October 2012, as well as 700 Club and other magazines, newspapers and e-zines.
Brook has recently been "keynote" speaker for/at many events for corporations, universities, and has spoken before and with members of congress. These include the recent SMS (stop modern slavery walk) in DC, the human-trafficking forum as well as,the Congressional Black Caucus and is the 2012/13 spokesperson against human- trafficking for the International Black Woman's Pubic Policy Institute as was with them at the CBC Human-Trafficking Forum on the Hill.
Brook has recently been ordained by Dr and Pastor Beverly Bam Crawford in Los Angeles at BEFIC church.
Brook's ground-breaking and important film "Survivor" which premiered at the 65th Annual Festival De Cannes in a private screening at Cinema Du Monde of the 82 minute version with Agoralumiiere under Marc Nekaiter and Josie Di'Angelo where Brook was graced to speak to an international audience. The Film also viewed at Marche Du Film at the short film corner where Brook created a short version of the movie. "Survivor" is a Documentary True Life Movie about the sex-trade, sex-slavery and abuse. It shares her road to and the picking up of the pieces of life once free from a pillaged and raped young womb.
[»] Click here to read more.
SCOTT HARRISON, Humanitarian



Harrison graduated from New York University in 1998 with a B.A. in Communications. After a 10-year foray into special event planning and promotions, he began a small upscale event planning and nightclub consultancy. His clients included MTV, VH1, ABC, Cosmopolitan, ELLE, Xbox (Microsoft), Universal Records, RCA, Island Records, Dunkin Donuts, Bacardi USA, Nike, Anheuser-Busch and more. In August 2004, he left the event business to serve for a year as a volunteer photojournalist onboard the Mercy Ship Anastasis in impoverished Liberia, West Africa. In September 2005, returning home to NYC, he tested the idea behind charity: by producing a large exhibition of his photographs and videos called mercy. Despite opening in the midst of the Hurricane Katrina disaster, Harrison's mercy. show was a success. Visitors contributed more than $96,000 towards providing medical procedures and freshwater wells in West Africa. Harrison returned to West Africa for another 6 month journey in October 2005, before returning to Manhattan in the spring of 2006 to found charity:.

[»] Click here to read more.
G LLOYD AND DAWN MORRIS, Filmmakers and Social activists


Director and Playwright G. Lloyd Morris along with his wife and long time business partner Producer Dawn Morris founded IAM Film Works in 1998. Although IAM Film Works is largely known for their films, IAM also produces dramatic theatre and musicals and founded Entrepursuer.com, a web based network that connects entrepreneurs.

In 2001 G. Lloyd Morris and Dawn Morris decided to relocate their California-based company to Delaware where they now reside with their three children. Committed to keeping their business in Delaware, IAM has established themselves as a reputable, professional feature entertainment company. Over the past decade, IAM has produced short films, PSA's, commercials and theatre, and are currently developing a statewide film festival.

IAM Film Works mission is to: produce films and theatre productions that will entertain, educate and spark discussion.

IAM Film Works is a company that creates films that specializes in telling stories that depict urban life in a complex, germane and realistic way. IAM uses film as the vehicle to discuss serious issues in American communities.

Mission: To entertain, educate and spark discussion through film.

[»] Click here to read more.
JACOB LIEF, Co-founder and Co-president of Ubuntu Education Fund,



Born in New York, Jacob Lief first became interested in South Africa while growing up in London, England. In 1994 he traveled to South Africa to observe the nation's first free elections, with a delegation of teachers and students from around the world. Inspired, Jacob continued to pursue his interest in South Africa at the University of Pennsylvania under the guidance of Dr. Mary Frances Berry, Chairperson of the Commission on Civil Rights and a major figure in the Free South Africa movement. In his third year of University, Jacob returned to South Africa where he met Malizole Banks Gwaxula, a teacher living and working in the Port Elizabeth Townships. In 1999, Jacob and Malizole founded Ubuntu Education Fund (www.ubuntufund.org), a nonprofit organization dedicated to working with the people of the Eastern Cape Province to develop quality education and healthy communities in the New South Africa. Over the past nine years, Jacob has served as President of Ubuntu and worked to develop Ubuntu from a small fund supplying basic educational materials to an international development organization creating sustainable health and education initiatives. Today Ubuntu provides over 40,000 orphaned and vulnerable children life-saving HIV support services and essential educational resources.

[»] Click here to read the interview with Jacob.
John Englander is an oceanographer, consultant and author.  Combining personal experiences as a global ocean explorer with expeditions in Antarctica, Greenland, the High Arctic and deep dives in research submarines, his mission is to be a clear, objective voice on our changing climate and oceans.   In other words - no scientific jargon, no political advocacy - he just explains the scientific facts and potential impacts in plain English. 
His broad marine science background, coupled with dual majors in Geology and Economics enable him to see the big picture on climate and look ahead to the large-scale financial and societal impacts particularly as they relate to sea level rise.
John also combines non-profit CEO experience with the insights of a time-tested business entrepreneur. Today his firm, The Sea Level Institute, works with corporations, government agencies and community organizations advising them on the potential impacts, financial risks and new opportunities from sea level rise.
[»] Click here to read more.
THE THREE WOMEN BEHIND PLOW TO PLATE



Plow to Plate is the brainchild of three extraordinary women, each with a profound commitment to alter the way that healthcare is dispensed by promoting nutrition first, through encouraging the community to support local food production. The Plow to Plate model is revolutionary and serves as a model not only for what can be done but for what should be done when it comes to the nutrition, health and well being of our communities at every level.
[»] Click here to read the interview.
MICHAEL DAUGHERTY, Author



Michael Daugherty is President & CEO of LabMD, an Atlanta-based clinical and anatomic medical laboratory with a national client base. LabMD specializes in analysis and diagnosis of blood, urine, and tissue specimens for cancers, micro-organisms and tumor markers. Mike founded LabMD in 1996 after 14 years in surgical device sales with U.S. Surgical Corp. and Mentor Corporation. Outside of LabMD, Michael enjoys playing tennis, traveling, and flying his Cirrus SR22 Turbo single engine aircraft. He is a member of the University of Michigan Alumni Association, the Atlanta Aero Club, and the Cirrus Owners and Pilots Association. Born and raised in Detroit, Michigan, Mike holds a BA in Economics from the University of Michigan-Ann Arbor, and has resided in Atlanta since 1987, when he moved to Atlanta from Portland, Oregon.

[»] Click here to read the interview with Michael.


FILMMAKER AND ACTIVIST, NANCY SCHWARTZMAN


Nancy Schwartzman is a director, producer and activist. She is the director and producer of documentary films The Line (2009) and xoxosms (currently in production, expected April 2011 release). Schwartzman runs a group blog at Where is Your Line? and @thelinecampaign as part of a multimedia campaign to promote sex-positive dialogue about relationships, sex and consent. She is launching her second group blog Without the internet we never would have met to create a space for people to share stories exploring digital intimacy.

Schwartzman's film work is rooted in a passion for story telling and new media as she explores the inherent complexities of modern relationships. In founding NYC-Safestreets.org, an initiative active from 2003-2005, she combined cutting edge mapping technology with community surveys and business participation. In her films and activism, she explores the challenges women and young adults face navigating desire, communication and intimacy, always engaging people to share their stories.

Schwartzman's work has been featured in The New York Times, Feministing, Ms. Magazine, Time Out New York "Sex Issue," Gawker, The Village Voice, NY Daily News, MTV.com, The Feminist Review, Jezebel, Good Vibrations Magazine, Women & Hollywood, Feministe, Washington City Paper, "The Sexist Blog," HEEB, WBAI Radio "HealthStyles," Prevention Connection. Schwartzman is a graduate of Columbia University with a degree in Art History and Film, she is the recipient of grants from the Fledgling Fund and the Playboy Foundation, and recently awarded the Cinereach Reach Film Fellowship.

She is a graduate of Columbia University and lives in Brooklyn, NY with her partner and cinematographer, Isaac Mathes. [»] Click here to read more.
James Campbell is a native of Wisconsin. He received his B.A. from Yale University and M.A. from the University of Colorado. He has written adventure travel, environmental, and military history pieces for Outside, National Geographic Adventure, Islands, Backpacker, Audubon, Coastal Living, Field and Stream, Sports Afield, Military History and many other magazines and newspapers.

For his first book, The Final Frontiersman, which won one of two nonfiction prizes at 2006 Midwest Booksellers Choice and was named by Amazon editors as the #1 Outdoor Book of 2004 and one of the Top 50 titles of the year, he logged hundreds of miles on foot and snowshoe across Arctic Alaska. His fascination with New Guinea (which he has visited five times) and the war in the South Pacific led him to the story of the 32nd Division and the Ghost Mountain Boys.

In 2006, he followed the footsteps of the Ghost Mountain Boys across New Guinea -- a journey that historians describe as "one of the cruelest in military history" -- and shot a documentary film in the process. No one from outside New Guinea had ever attempted to retrace the soldiers' route. He discovered a wilderness and mountain villages largely unchanged in sixty years.

The Color of War: How One Battle Broke Japan and Another Changed America is his latest book.

James lives in Wisconsin with his wife and two daughters.
[»] Click here to read more.
AARON WOOLF, Film maker, Restaurateur and (now) Grocer



Aaron Woolf's award-winning films have been broadcast on The Sundance Channel, ARTE, RAI and SBS, as well as being presented to the State Department and the United Nations.

Aaron is the founder of Mosaic Films Incorporated and an avid mountaineer.

[»] Click here to read more.
TIM REID, Actor, Producer and Director



Actor, producer, and director Tim Reid has committed himself to projects that show American blacks in a more positive light than are generally seen in Hollywood through his United Image Entertainment company.
As an actor Reid is best remembered for playing cool disc jockey Venus Flytrap on WKRP and for his sitcom Frank's Place. Fans of the crime-drama Simon and Simon will remember him for playing Lt. Downtown Brown.
Reid first appeared on television in Frankie Avalon: Easy Does It. He then worked on The Marilyn McCoo and Billy Davis Hour and The Richard Pryor Show. Reid also starred in the sitcom Sister-Sister.
He made his feature film debut in Dead Bang.
As a director, Reid debuted with the acclaimed Once Upon a Time...When We Were Colored. As a writer, Reid has penned scripts for a series of animated videos chronicling Frank Baum's Oz tales. He also produced two feature films, Out-of-Sync and Spirit Lost.
Tim lives in Virginia with his wife, actress Daphne Reid.
[»] Click here to read the interview with Tim Reid.
JONATHAN WALTON, Poet, Activist, and Speaker



When Jonathan was 16, a motorcycle accident changed everything. He miraculously was not hurt, and says, "it was a big, big wake-up call" that made him think about his life. That day he wrote "By Grace," one of his best poems yet. He has since devoted his life to writing poetry and advocating for underprivileged youth. He spreads a message of purpose, compassion and justice, rooted in his Christian faith.
Jonathan recently graduated from Columbia University with a major in creative writing. He has written two books of poetry, with a third coming out soon.
His speaking engagements often include poetry readings in the tradition of spoken word and performance poetry, which has gained increasing popularity among a wide range of audiences, especially youth. His performances are described as "dynamic and rhythmic readings."
Jonathan has spoken at more than 200 venues, from youth events and colleges to nursing homes and prisons. He has an easy smile but also conveys passion as he takes a stand against injustices such as child labor and trafficking.
Jonathan inspires and points people to ways they can help. He says, "By showing people concrete, concise points of entry into the battle against extreme poverty, AIDS, malaria and systemic injustice, we can begin to make considerable headway in our struggle for a better world."
Jonathan Walton is based in New York.
[»] Click here to read more.
BARBARA FRIEDMAN, Award Winning Painter



There is a universe in Barbara Friedman's recent paintings - half Heraclitus, half Heisenberg - where anything can happen and it's happening right now.

Hovering between Heraclitus and Heisenberg, Barbara Friedman's recent paintings confront the viewer with a certain uncertainty. As painterly embodiments of the ancient Greek philosopher's assertion that "Nothing endures but change," the new works accomplish the seemingly self-contradictory task of freezing time and motion while simultaneously conveying their existence as phenomena. And though apparently depicting traditional scenes and events - Passing Truck; Pink Garage; Blue Trampoline - Friedman portrays a non-deterministic universe, a world of probability and potential similar to the vision promulgated by quantum mechanics. Somewhat contradictory to the "observer effect" that is often linked to Heisenberg's uncertainty principle, however, in the case of Friedman's work, the viewer rather than the event is transformed.

Writing about her recent work, Barbara Friedman states:

The paintings examine the vagueness of appearances
and the need to keep renegotiating one's bearings.
As distillations of passing moments they speak to an
elevated sense of mortality but also a feeling of being
optically over-powered.

Passing By, the artist's first solo show with Michael Steinberg Fine Art, is a vibrant amalgam of the tradition of American landscape painting and contemporary concerns with the impact of photography, film and video. In a recent essay about Friedman's work, the critic Lily Wei describes them as "a two-way exposition of time and memory cinematically formatted..."

Barbara Friedman was born in New York City, where she currently lives and works. She received her BFA from the Rhode Island School of Design, and her MFA from the University of California - Berkeley. She has had numerous solo and group exhibitions, and is currently Professor of Art at Pace University, New York, NY.

[»] Click here to read the interview with Barbara.
AMY KALAFA, Film maker, Activist



Amy Kalafa is the Producer / Director of Two Angry Moms. Since childhood, Amy has been passionate about social justice and environmental issues. She is now compelled to express that passion by speaking out as an Angry Mom fighting for the health of America's kids.
For over 15 years, Amy has produced award-winning films, television programs and magazine articles in the field of health education. Amy's production credits include three seasons of Dr. T. Berry Brazelton's parenting show, "What Every Baby Knows", PBS specials, "Our Nation's Health: A Matter of Choice" and "Healthy Aging", as well as the Reiner Foundation's, "The First Years Last Forever". She has produced food and health segments for "Martha Stewart Living" and has appeared as a guest chef on PBS's, "Cultivating Life".
Amy holds a Lectureship at the Yale School of Medicine and Psychiatry for her work in the field of health communication, particularly in recognition of a series she created for Court TV, "Inside the Criminal Mind". As a subcontractor, Amy has worked on numerous training films for Yale University and the US Department of Education. She is the Executive Producer of a grant-funded project, "The Trauma Business" in cooperation with the New York State Psychiatric Center and Columbia University.
Amy is also a holistic health and nutrition counselor and a Lyme Disease consultant. Her advocacy work extends to her personal life as well. She served a four-year term on the advisory board of the Weston / Westport Health District's CDC funded "Target Lyme" prevention initiative and she is a founding board member of the AIDS Treatment Data Network, a certified Kripalu Yoga teacher and an organic farmer. Amy and her husband, filmmaker Alex Gunuey, have two daughters who have always "brought" their lunch to school.
[»] Click here to read the interview with Amy.
Rabbi, Musician, Managing Director of Nenner Research, David Gurwitz



My initial conversation with David Gurwitz, for me, was like meeting an old friend. He is just one of those special and lovely people that we don't get to read about very often. David shared with me that the word Jew means "acknowledge God". I can't think of a better way to acknowledge God than to be kind and to see the good in people. That is David's life and his special relationship with Oliver Taylor is a testament to that fact and a powerful acknowledgment of God.

[»] Click here to read more.
SARAH MCNALLY, Independent Bookstore Café Owner



There are some things that we have the luxury of taking for granted. Independent Bookstores are not one of them. Independent Bookstores serve to provide life blood to communities because, the good ones, offer a place for people to gather and read and write and sit and think and offer a place where the creative process is encouraged to begin. McNally Jackson is one of the good ones and Bookseller Sarah McNally's clear vision is the reason why...

[»] Click here to read more.
JIMMY SANTIAGO-BACA, Celebrated Poet



Born in New Mexico of Indio-Mexican descent, Jimmy Santiago Baca was raised first by his grandmother and later sent to an orphanage. A runaway at age 13, it was after Baca was sentenced to five years in a maximum security prison that he began to turn his life around: he learned to read and write and unearthed a voracious passion for poetry. During a fateful conflict with another inmate, Jimmy was shaken by the voices of Neruda and Lorca, and made a choice that would alter his destiny. Instead of becoming a hardened criminal, he emerged from prison a writer. Baca sent three of his poems to Denise Levertov, the poetry editor of Mother Jones. The poems were published and became part of Immigrants in Our Own Land, published in 1979, the year he was released from prison. He earned his GED later that same year. He is the winner of the Pushcart Prize, the American Book Award, the International Hispanic Heritage Award and for his memoir A Place to Stand the prestigious International Award. In 2006 he won the Cornelius P. Turner Award. The national award recognizes one GED graduate a year who has made outstanding contributions to society in education, justice, health, public service and social welfare.

Baca has devoted his post-prison life to writing and teaching others who are overcoming hardship. His themes include American Southwest barrios, addiction, injustice, education, community, love and beyond. He has conducted hundreds of writing workshops in prisons, community centers, libraries, and universities throughout the country.

In 2005 he created Cedar Tree Inc., a nonprofit foundation that works to give people of all walks of life the opportunity to become educated and improve their lives. Cedar Tree provides free instruction, books, writing material and scholarships. Cedar Tree has an ongoing writing workshop in the Albuquerque Women's Prison and at the South Valley Community Center. Cedar Tree also has an Internship program that provides live-in writing scholarships at Wind River Ranch, and in the south valley of Albuquerque. The program allows students, writers and poets the opportunity to write, attend poetry readings, conduct writing workshops, and work on documentary film production.

Baca is currently finishing a novel, a play and three poetry manuscripts to be published in 2007. He is also producing a two hour documentary about the power of literature and how it can change lives.

[»] Click here to read the interview with Jimmy.
BRYANT TERRY, Eco-chef and Food Activist



Bryant Terry is a chef, author, food justice activist and founder of b-healthy! (Building Healthy Eating and Lifestyles to Help Youth), a New York City-based not-for-profit organization. Bryant is nationally recognized for his persistent effort to innovatively create a more just and sustainable food system. His work has received recognition in Newsweek, Vibe, ReadyMade, Zink, Organic Style (where he was named one of "Tomorrow's Environmental Power Players") and many other publications. Bryant lectures and facilitates workshops across the country for youth and adults about cooking, food politics, and the relationship between diet and health. His first book, Grub: Ideas for an Urban Organic Kitchen (Tarcher/Penguin) with co-author Anna Lappé will be on shelves April 2006. In addition to graduating from the Natural Gourmet, Bryant also received an M.A. in History from New York University and a B.A. with honors in English from Xavier University of Louisiana. Bryant lives in Brooklyn and Oakland.

www.eatgrub.org | www.bryant-terry.com

[»] Click here to read more.
ARTHEL NEVILLE, Journalist and Television Talk Show Host



Arthel Neville currently serves as a co-host for "FOX & Friends First." Presented weekdays at 5 AM/ET, the program is an hour-long expansion of "FOX & Friends" and is anchored by a pair of rotating hosts. Additionally, Neville anchors the weekend newscast, "America's News Headquarters," (Saturday, 4-7 PM/ET) and is a weekly contributor on "The O'Reilly Factor."
Neville first joined FNC in 1998, where she served as a contributor until 2001. She rejoined the network in 2010 as a New York based anchor and anchored the weekend newscast, "America's News Headquarters," (Saturday, 4-7 PM/ET). She has previously anchored on "America's Newsroom," "The Strategy Room" on FoxNews.com, and guest-anchored "Fox & Friends" and "America Live with Megyn Kelly."
Prior to her most recent role on FNC, Neville was the host of CNN's, "Talkback Live with Arthel Neville," making her the first African-American woman to host her own daily show on the network.
After CNN, Neville served as the West Coast bureau chief for 20th Century Television's "Geraldo-at-Large" and as the lead anchor for "Fox 5 Morning News in San Diego" and KSWB-TV's four-hour weekday newscast.
Neville also hosted and produced her one-on-one celebrity interview show, "Extreme Closeup," on E! Entertainment Television, becoming the first high-profile black female entertainment reporter. Following her groundbreaking show, Neville launched "Extra" for Warner Bros. Studios, where she delivered entertainment headlines to millions of homes every evening. Neville also co-hosted Fox's national morning show "Good Day Live." In addition to this, she has guest hosted on "The View," "Live" (with Regis Philbin), and co-hosted the Miss Teen USA Pageant with Dick Clark and the Miss Universe Pageant to a worldwide audience of over 60 million people.
Neville started her career as a general assignment reporter for KVUE in Austin while a journalism student at the University of Texas. In 2003, she was recognized by the university for her contribution to broadcast journalism with the Outstanding Young Texas Ex Award.
[»] Click here to read more.
TARA BRACCO, Poet and Activist



Artist, writer, and non-profit consultant Tara Bracco is the co-founder of The Project Solution and the founder of Poetic People Power, an ongoing project in New York City that combines poetry and activism. Her op-eds and non-fiction writing on feminism, the arts, and economics have appeared in a range of national and local publications including The Huffington Post, Cosmopolitan, American Theatre, Brooklyn Rail, Clamor, and BUST. She is also a Fellow at the Woodhull Institute for Ethical Leadership.

In 2003, Bracco created Poetic People Power to raise awareness on social and political issues through the expressive art of poetry.  Since then, she has provided work opportunities for emerging poets by commissioning nearly 50 political poems and producing spoken word shows on topics such global warming, universal health care, and the water crisis . Now with the project in its eighth year, Bracco is becoming a recognized leader in the area of art and activism. Her work with Poetic People Power has been profiled in Time Out New York and has received awards from the Puffin Foundation and the Lower Manhattan Cultural Council. She has spoken about her career as an artist and activist at Barnard College, Marymount Manhattan College, and has performed at colleges, fundraisers, and venues throughout New York.

Bracco's activism and leadership are also reflected in her non-profit work. She has a deep knowledge of the non-profit sector with over ten years experience working for feminist and arts organizations. As a non-profit consultant, Bracco has advised on and developed fundraising strategies for Our Time Theatre Company, the Duke Ellington Center for the Arts, Savvy Ladies, Bitch magazine, and Girls Write Now. She is also on faculty at the Woodhull Institute for Ethical Leadership, where she has traveled across the country training hundreds of women in public speaking and advocacy. [»] Click here to read more.
KENNETH SHROPSHIRE, Professor, Attorney and Author



Kenneth L. Shropshire, the David W. Hauck Professor at the Wharton School of the University of Pennsylvania, is the author of several award-winning books such as The Business of Sports, The Business of Sports Agents, The Sports Franchise Game, In Black and White, Sports and the Law, and Basketball Jones. His expert views have been presented in Wall Street Journal, Sports Illustrated, National Public Radio, and Nightline. A Stanford and Columbia Law graduate, Shropshire previously worked in private law practice and as an executive with the LA Olympic Organizing Committee. He is also the Director  of the Wharton Sports Business Initiative. He serves as an arbitrator with clients including the National Football League Players Association and USA Track and Field. Shropshire is also Special Counsel at the law firm Duane Morris LLP.

[»] Click here to read the interview with Kenneth.


A native of Newark, NJ, Laverne returned to the Garden State, where she was born, in the 1993 to start a new life. While working for Superior Court judge in Newark, she enrolled in Essex County College in Newark - but not before taking the GED twice. It was the summer of 2002 while taking a freshman writing class she first realized she was ready to confront her past head on. In response to a writing assignment, "What was the most pivotal moment in your life?" she turned in 15 pages about her experience being homeless in the '80s and '90s. That exercise gave her the impetus to begin writing a book-length memoir. She first shared her chilling narrative in the September 2006 issue of Essence Magazine.
In 2004, Laverne earned a Bachelor's degree in political science at Bloomfield College, NJ -attending school at nights and weekend, working a full time as an executive assistant for an assemblymen and mayor, and managing a family. Laverne's made the Dean's List and was recognized with school's "Non-Traditional Student Award" during her senior year.
Laverne's book God Bless the Child, to be published in September 2009, tells the story of being a young child and of homelessness, of mental illness and looking for a place to call home.
She currently lives in between New Jersey and Georgia with her husband and four children. Her experience has led her to do extensive volunteer work with children's programs such the Head Start Policy Council. Laverne continues to inspire people by lending her voice to the cause of homelessness and mental illness and offering solutions.
[»] Click here to read more.
LAURIE GUNST, Critically acclaimed author



Laurie was born in Richmond, Virginia in 1949. Her growing up coincided with the struggle for civil rights. Since she was raised in a family of "deeply narcissistic (but admirable) Jewish liberals", by a small phalanx of powerful African American women without whom she says she would have perished from loneliness and neglect, her public schooling and her real education were seriously at odds. She learned early just how personal the political could be.

Laurie went north to Boston University, where she eventually flunked out. She crossed the continent to California, seeking to put as much distance as she could between herself and the scene of her defeat, but she came back east in 1971 on fire with the women's movement. She attended The University of New Hampshire, where she finished her undergraduate degree in 1973 and earned a Master's Degree in history the following year. In 1974, she entered graduate school at Harvard University. She earned her doctorate in 1982.

By that time, she had begun spending long sojourns in the island of Jamaica. Laurie slowly became aware of the bitter reality that lay behind the island's paradisiacal façade-the poverty and violence which the vast majority of Jamaica's people suffered-and this awakening re-ignited the passion for justice that had been so much a part of her youth. She became determined to write an expose of Jamaica's brutal politicians and their secret symbiosis with the island's deadliest outlaws, whom they armed and paid to control the slums of Kingston. She moved to that city in 1984, spent two years there tracking these gangs, then came to New York City in 1987 to continue her research. Born Fi' Dead, the story of her descent into this contemporary hell, was published by Henry Holt in 1995.

Laurie's latest book is Off White, the story of how her childhood against the backdrop of racism in America's South. "Off-White is the story of my southern family-black, white, and Jewish." -- LG

Laurie will be teaching in the spring at New York's New School University . She currently lives in New York City with her husband. [»] Click here to read the interview with Laurie Gunst.
ANN COOPER, Chef, Food Activist and Renegade Lunch Lady



Chef Ann Cooper is a renegade lunch lady. She works to transform cafeterias into culinary classrooms for students - one school lunch at a time.

At The Ross School in East Hampton, NY, Chef Ann served as the executive chef and director of wellness and nutrition, developing an integrated school lunch curriculum centered on regional, organic, seasonal and sustainable meals. The implementation of her pilot wellness program proved successful, and Chef Ann was invited to work with schools across the country. She has transformed public school cafeterias in New York City, Harlem and Bridgehampton, NY, and now in Berkeley, CA, to teach more students why good food choices matter by putting innovative strategies to work and providing fresh, organic lunches to all students.

Currently, Chef Ann is the director of nutrition services for the Berkeley Unified School District (BUSD), improving meals at 16 public schools with a population of over 9,000 students. Chef Ann is at the forefront of the movement to transform the National School Lunch Program into one that places greater emphasis on the health of students than the financial health of a select few agribusiness corporations. Chef Ann's lunch menus emphasize regional, organic, fresh foods, and nutritional education, helping students build a connection between their personal health and where their food comes from.

Chef Ann's newest book, "Lunch Lessons: Changing the Way We Feed Our Children" (Harper Collins, Sept. 2006), is overflowing with strategies for parents and school administrators to become engaged with issues around school food - from public policy to corporate interest. It includes successful case studies of school food reform, resources that can help make a difference and healthy, kid-friendly recipes that can be made at home, or by the thousands for a public school cafeteria.

Chef Ann is the former executive chef of the Putney Inn in Vermont. Her commitment to healthy, fresh food drove her to work with school administrators, politicians and parents - the people with the power over school food - to guarantee that wholesome food choices are available to kids. Chef Ann, the past president of The American Culinary Federation of Central Vermont, is a graduate of The Culinary Institute of America, and the former president and current board member for Women's Chefs and Restaurateurs. She also sat on the U.S. Department of Agriculture National Organic Standards Board and Chefs Collaborative - all in an effort to raise awareness about the value of healthful seasonal, organic, and regional foods and nutrition education for America's children.

Through collaborative work with organizations including the Center for Ecoliteracy, Alice Waters' Chez Panisse Foundation, and the W.K. Kellogg Foundation's Food and Society Policy Fellowship, Chef Ann has made tremendous strides in a variety of school wellness programs.

[»] Click here to read more.
MATTHIAS HOLLWICH, Architect




Matthias Hollwich is co-founder of HOLLWICHKUSHERN LLC. HWKN is a New York City based architecture and concept design firm. The office with the idea of de-familiarizing the ordinary. Projects include the design of the first retirement community of West Africa, 2 large-scale apartment renovations on New York's Upper East Side, the Favella Formiga Open Air Theater in Rio de Janeiro, and the reinvention of the city center of Dessau in Germany in the context to the IBA 2010. In the Fall of 2008 the firm's award winning vision of urbanism, MEtreePOLIS, was featured in the German Pavillion at the Venice Biennale, and followed the successful deployment of the MINI ROOFTOP NYC for the BMW brand MINI. HWKN's work has been widely published and was most recently featured in the "Surface Magazine", the "New York Magazine" and "The New York TImes". HWKN is currently working with the University of Pennsylvania on a series of courses and symposia to reinvent nursing home design the culmination in an international conference on aging and architecture in the Fall of 2010 called "New Aging" and also successfully launched ARCHITIZER, a new social networking site for architects.

Before co-founding HOLLWICHKUSHERN, Matthias worked in several internationally acclaimed architectural firms and urban design studios, including: OMA, Rotterdam (Netherlands), Eisenman Architects, and Diller+Scofidio, New York City. In 2001 Matthias founded XPEKT, a concept engineering firm based in Amsterdam. From 1999-2001, Matthias was assistant professor at the Federal Institute of Technology (ETH) in Switzerland 1999 - 2001 and part of the Bauhaus Dessau Werkstaedte between 2002 and 2006. Presently Matthias is a visiting professor at the University of Pennsylvania. In 2004 he finished editing his first book with Rainer Weisbach at the Bauhaus: UmBauhaus - Updating Modernism.

[»] Click here to read the interview with Matthias Hollwich.
SOMA MUKHOPADHYAY, Author, Teacher and Autism Education Pioneer


Soma Mukhopadhyay is the mother of the autistic child Tito. When he was 11, Soma brought him from their native India to the UK and then to America. Tito's unprecedented ability to describe what it is like to be autistic is giving scientists new insights into this mysterious neurological malady. Autism is a developmental brain disorder that affects the ability to communicate, form relationships, and respond appropriately to the environment. People with severe autism are all but unreachable and live deeply inward lives the rest of us cannot fathom.

But Soma, a professional teacher and loving mother, was fiercely determined that Tito reach his full potential. She educated him intensively with what she now calls the "rapid prompting mechanism," forcing Tito to keep focused while she taught him to learn to read and write, to listen, and to engage with the physical and social world around him. Soma's labors with Tito not only saved him from a lifetime of psychic inner imprisonment, but offer the same chance to other autistics and their families to form rich relationships.

[»] Click here to read more.
TERRY ADKINS, celebrated abstract artist



Terry Adkins is an installation artist, musician, activist, and cultural practitioner who for 20 years has pursued an ongoing quest to reinsert historically transformative figures to their rightful place in the landscape of regional and world history. Although his "recitals" combine sculpturally based installations with music, video, literature, and ritual actions that intend to uphold and preserve the legacies of his chosen subjects, Adkins's work is always abstract and lyrical. An inspiration to younger artists for his uncompromising stance, he is also a dedicated teacher as Professor of Fine Arts at the University of Pennsylvania.

[»] Click here to read more.
DANI SHAPIRO, Best Selling Author



Dani Shapiro's most recent book's include Family History (Knopf, 2003) and the best-selling memoir Slow Motion, for which she co-wrote the screenplay, along with her husband, screenwriter Michael Maren, for Sony/Phoenix Pictures and Reese Witherspoon.

Her short stories and essays have appeared in The New Yorker, Granta, Tin House, Elle, Bookforum, Oprah, Ploughshares, among others, and have been broadcast on National Public Radio. Her books have been translated into seven languages.

She lives with her husband and young son in Litchfield County, Connecticut. Her new novel will be published by Knopf in 2007.

[»] Click here to read the interview with Dani Shapiro.
MICHAEL THOMAS, Author


Michael Thomas was born and raised in Boston. He received his B.A. from Hunter College and his MFA from WARREN Wilson College. He teaches at Hunter College and he lives in Brooklyn with his wife and their three children.

[»] Click here to read the interview with Michael.


WANDA HARDING, NASA Mission Manager



Wanda Harding
Senior Mission Manager
Flight Projects Office
Launch Services Program
Wanda Harding is a senior mission manager in the Flight Projects Office of the Launch Services Program (LSP) at NASA's Kennedy Space Center in Florida, providing leadership in launch services project planning, development, analysis and forecasting.
The LSP serves as the "bridge from earth to space" for the NASA and NASA-sponsored science, exploration and technology demonstration missions. These missions, as described by NASA Administrator Charles Bolden, "...enable us to explore new worlds, develop more innovative technologies, foster new industries, increase our understanding of the earth, expand our presence in the solar system, and inspire the next generation of explorers..."
As a mission manager, Harding leads and manages a matrixed, multi-disciplined mission integration team of senior level engineers and business management personnel located at Kennedy Space Center and at Vandenberg Air Force Base in California. She is the mission manager for the upcoming Mars Science Laboratory (MSL) and the Tracking, Data, and Relay Satellite K & L (TDRS-K and TDRS-L) missions.
Harding's prior mission management experience includes, during various phases of formulation and implementation, the secondary payload missions Oersted, SUNSAT, Munin, and Citizen Explorer; and the primary missions Spitzer Space Telescope, Gravity Probe-B (GP-B), Ocean Surface Topography Mission (OSTM), Aeronomy of Ice in the Mesosphere (AIM), Demonstration of Autonomous Rendezvous Technology (DART), Dawn, Interstellar Boundary Explorer (IBEX), Lunar Reconnaissance Orbiter (LRO), Lunar Crater Observation and Sensing Satellite (LCROSS), Landsat Data Continuity Mission (LDCM), and the Solar Dynamics Observatory (SDO).
Prior to joining LSP, Harding held a variety of technical positions in the Space Station Launch Site Support organization. She participated in the NASA Administrator's Fellowship Program, which included a one-year teaching assignment at Spelman College in Atlanta, Ga., and a professional detail at NASA Headquarters in Washington, D.C. Harding also served as an executive intern with the director of Kennedy Space Center.
Harding is a graduate of the Benjamin E. Mays High School Academy of Science and Mathematics in Atlanta, Ga. She earned a B.S. in electrical engineering from Hampton University in Virginia and received her M.S. in electrical engineering from the Georgia Institute of Technology in Atlanta. She joined the NASA team at Kennedy Space Center in 1994.
[»] Click here to read the interview with Wanda.
JOHN BUL DAU, Former "Lost Boy" of Sudan, Genocide Survivor, Social Entrepreneur and Humanitarian


John Dau is one of the men featured in Christopher Quinn's documentary, God Grew Tired of Us, and he has experienced trials in life that most people never imagine. Born in war-torn Sudan, Dau is one of 27,000 Lost Boys driven from their villages when the Sudanese government began attacking the ethnic minority population of Southern Sudan. Forced to walk to refugee camps in Ethiopia and Kenya, he faced starvation, disease, and violence on treks across hundreds of miles. In 2001, Dau was one of many Lost Boys sponsored to live in the United States.
As a human rights activist for the people of Southern Sudan, he has lived a remarkable life of cultural adaptation. John has received many prestigious awards, including National Geographic's Emerging Explorers award and was a Volvo for Life finalist in the Quality of Life category which carried a contribution from Volvo of $25,000 to the John Dau Sudan Foundation. John was also named a World Economic Forum Young Global Leader for 2008.
As a leader, John is an experienced social entrepreneur. He has started three 501(c)3 organizations. He is an advisor for two of these organizations, the Sudanese Lost Boys Foundation of New York and the American Care for Sudan Foundation, both of which operate with independent boards. His primary effort now is to build the John Dau Sudan Foundation into a financially stable organization that supports the building and maintenance of clinics in Southern Sudan.
[»] Click here to read the interview with John.
TODD DARLING Documentary Filmmaker



Todd Darling received his BA from UC Berkeley, and his MFA in Motion Pictures and Television from UCLA. His producing and directing credits include: "Año Nuevo" which won the Academy of Television Arts and Sciences Eric Sevareid Award; "Saviors of the Forest" (exec. producer) a feature documentary which screened at Sundance and on Encore and PBS; "High Tech Families" on PBS stations; "Farm Club" (director) for USA; "Murder in Small Town X (director) for Fox TV; and "Laguna Beach: The Real OC" (director) for MTV (seasons 1 and 2).

"A Snowmobile for George" screened at festivals including: Santa Barbara, Big Sky, Sedona, Newport Beach, Port Townsend, New Orleans, and the Ashland Independent Film Festival which named it a "2008 Best Documentary: Feature Length Finalist". The Denver Film Society screened "A Snowmobile for George" as part of their "October Election Year Series", and the Fledgling Fund supported an eight state tour of the film of in conjunction with the Western Organization of Resource Councils and the Endangered Species Coalition.

Todd is currently at work on his next project in Venice, CA where he lives with his family.

[»] Click here to read more.
AARON DWORKIN, 2005 MacArthur Fellow, Founder and President of the Sphinx Organization



Named a 2005 MacArthur Fellow, a Member of the Obama National Arts Policy Committee and President Obama's first appointee to the National Council on the Arts, Aaron P. Dworkin is the Founder and President of the Sphinx Organization, the leading national arts organization that focuses on youth development and diversity in classical music. An author, social entrepreneur, artist-citizen and an avid youth education advocate, he has received extensive national recognition for his vast accomplishments. His memoir titled "Uncommon Rhythm: A Black, White, Jewish, Jehovah's Witness, Irish Catholic Adoptee's "Journey to Leadership" was recently released through Aquarius Press.
He has been featured in People Magazine, on NBC's Today Show and Nightly News with Brian Williams, named one of Newsweek's 15 People Who Make America Great. He is the recipient of the National Governors Association 2005 Distinguished Service to State Government Award, Detroit Symphony's 2007 Lifetime Achievement Award, 2003 Michiganian of the Year, Crain's 40 Under 40, BET's History Makers in the Making Award and AT&T Excellence in Education Award.
Dr. Dworkin authored an autobiographical poetry collection entitled "They Said I Wasn't Really Black" as well as a children's book entitled "The 1st Adventure of Chilli Pepperz". A passionate advocate for excellence in music education and diversity in the performing arts, Dr. Dworkin has been a frequent keynote speaker and lecturer at numerous national conferences including The Aspen Ideas Festival, Chautauqua and many national service organizations.
A lifelong musician, Dr. Dworkin is an accomplished acoustic and electric violinist, a spoken-word and visual artist. He has strong interests in politics, world history and issues of economic and social justice. In addition to various genres of music, he enjoys travel and culinary arts.
A lifelong musician, Dr. Dworkin is an accomplished acoustic and electric violinist, a spoken-word and visual artist. He has strong interests in politics, world history and issues of economic and social justice. In addition to various genres of music, he enjoys travel and culinary arts.
[»] Click here to read more.
TERRIE WILLIAMS, Public Relations Guru, Author and Mental Health Advocate



Terrie M. Williams is a licensed clinical social worker, and founder of The Terrie Williams Agency, which is one of the country's most successful African-American public relations and communications firms, and has handled some of the biggest names in entertainment, sports, business and politics. Through her Stay Strong Foundation, she has launched the national mental health advocacy campaign "Healing Starts With Us." A best-selling author of four books, including her latest, entitled BLACK PAIN: It Just Looks Like We're Not Hurting (Scribner), Terrie is committed to guiding people in deep emotional pain onto a path of healing.

Terrie has been recognized by numerous awards including The Institute for the Advancement of Multicultural & Minority Medicine's 2006 Eagle Fly Free Award for her work as a depression survivor, and The New York Women in Communications Matrix Award in Public Relations—the first woman of color to receive this award in the award's 70-year history.

Terrie has a B.A. (cum laude) in Psychology and Sociology from Brandeis University, and an M.S. in Social Work from Columbia University.

[»] Click here to read the interview with Terrie.
JIM DRATFIELD, world renowned, celebrated pet photographer





JIM DRATFIELD is the photographer-owner of Petography, a pet-photography firm whose clients include Jennifer Aniston, Henry Kissinger, Oscar de la Renta, and Len Riggio. Petography. Jim's books have been featured on 20/20, Access Hollywood, Inside Edition, Primetime Live, and CBS's Early Show, and in print features and reviews in USA Today, People, Town & Country, and other publications. He lives in New York City.

[»] Click here to read more.
LOU GOSSETT, JR. Oscar Award winning Actor and Author



Born May 27, 1936 in Brooklyn, NY, Lou has a flair for projecting quiet authority and has scored well personally in astring of diverse and occasionally challenging roles.

The aspiring actor caught a break at his first Broadway audition for "Take A Giant Step" (1953), where, beating out 400 other candidates, the then 16-year-old landed the lead.

His acting career soon flourished and his work in the stage and film versions of the groundbreaking drama about African-American family life in Lorraine Hansberry's "A Raisin in the Sun" (1961) proved a watershed. This led to numerous appearances on network series in the 1960s and 70s culminating in 1977, when he picked up an Emmy for his eloquent portrayal of Fiddler in the landmark ABC miniseries "Roots".

Meanwhile, his big screen reputation grew with critically acclaimed work in such comedies as "The Landlord" (1970) "The Skin Game"(1971) with James Garner, "Travels with My Aunt" (1972) and the film adaptation of the Tony Award-winning drama "The River Niger" (1975). A riveting performance as a drug-dealing cutthroat stalking Nick Nolte and Jacqueline Bisset in "The Deep" (1977) catapulted him to wider popularity, but the tough by-the-book drill sergeant in "An Officer and a Gentleman" (1982) won him a Best Supporting Oscar that consolidated his place in the Hollywood hierarchy.

Following his Oscar, he made numerous big screen and television appearances ,being singled out for his work as Egyptian president Anwar Sadat in "Sadat"(1983), the sci-fi adventure "Enemy Mine" (1985) where his lizard-like makeup won kudos, and in the action adventure series "Iron Eagle" (1985,1986,1992,1995) which introduced him to a whole new generation of moviegoers.

The recipient of every known acting accolade, including multiple Golden Globes, Emmys, and People's Choice Awards, Lou's performance has connected him with his fans on a global scale. Organizations such as the NAACP, CARE, and the United States Armed Forces have used his likeness to add validity and integrity to their causes.

Lou has also developed the Eracism Foundation, a nonprofit organization aimed at creating entertainment that helps bring awareness and education to issues such as racism, ignorance, and societal apathy.

[»] Click here to read more.
ROLAND LEGIARDI-LAURA, Documentary Filmmaker



Roland Legiardi-Laura's first documentary Azul won 9 international awards. He has received a host of fellowships and grants from the New York State Council on the Arts, The New York Foundation for the Arts, The NYC Department of Cultural Affairs, The Rockefeller Fund, and The Andy Warhol Foundation. Besides directing and producing films, Legiardi-Laura is a published poet and has taught in public schools, prisons and senior citizens homes for years.

He created from scratch the first traveling troupe of performance poets, Words To Go. He is one of the directors of a world-renowned arts institution, The Nuyorican Poet's Café, where he created a unique film development program called The Fifth Night, in which he produced 213 weekly screenplay readings. Forty of those scripts were produced as feature films. He is currently developing a documentary about the secret history of American schooling—entitled Weapons of Mass Instruction. [»] Click here to read the interview.
MARYDALE DEBOR,Innovative Crusader



Marydale DeBor is a professional creative thinker and problem solver, who develops innovative solutions to significant problems.

With over 15 years of experience directing large scale, multimillion dollar philanthropic initiatives, Marydale was one of the key engineers of Avon's programs to fight breast cancer, globally.

She is currently the Vice President for External Affairs and Foundation Executive Director at New Milford Hospital, New Milford, Connecticut.

Prior to that, Marydale served as the Chief Advisor to the Avon Foundation Breast Cancer Crusade where she was instrumental in creating and implementing a comprehensive, international philanthropic investment strategy to support a corporate breast cancer initiative, with a mandate to accelerate the development of effective prevention and treatment strategies and to increase access to medical care for underserved women.

While working with Avon, Marydale established a national network of more than 150 prominent investigators, leading National Cancer Institute (NCI) -designed cancer centers, successfully positioning Avon as a leader in funding, promising yet under funded areas of breast cancer research.

Marydale was instrumental in the development of an historic public/private partnership between The National Cancer Institute and Avon. She spearheaded the Avon-American Association for Cancer Research Global Breast Cancer Initiative to support continuing education and training at US cancer centers for young investigators and survivor-advocates in Latin America, Asia and Eastern Europe.

Marydale has worked closely with prominent, New York city-based non-profit organizations a network of 135 community-based programs that bring publicly funded sources of breast cancer care to thousands of uninsured, low-income, minority and elderly women in all 50 states.

Among her many other accomplishments, Marydale has served as:
Executive Vice President for the Academic Medicine DEVELOPMENT CORP, NEW YORK, NY,
PRESIDENT OF DeBor AND ASSOCIATES, BETHESDA MD,
IN-HOUSE COUNSEL FOR, MAC ANDREWS AND FORBES HOLDINGS, Washington, DC,
ASSOCIATE, AKIN, GUMP STRAUSS, HAUER AND FELD, Washington, DC
Her record of public service and pro bono activities include:
Member, Institutional Review Board, New York Psychiatric Institute, New York, NY
Member, Public Policy Committee, Cancer Care, Inc., New York, NY
Healthy People 2000 Cancer Control, Progress Review Advisory Group, Department of Health and Human Services, Washington, DC
Member, National Mammography Quality Assurance Advisory Committee, Food & Drug Administration
Member, Guideline Panel on Quality Determinants of Mammography, Agency for Health Care Policy & Research (HHS)
She is a member of:
Bar Association of the City of New York
New York State Bar Association
District of Columbia Bar Association
American Society of Law, Medicine and Ethic,
American Society of Clinical Oncology
American Association for Cancer Research
She received her J.D. from the
University of Pittsburgh Law School
, Pittsburgh, PA where she served as the Notes and Comments Editor for
The Journal of Law and Commerce
She attended Chatham College, Pittsburgh, PA where she earned her B.A. with Honors in Education.
Marydale is a mother and new grandmother.
She currently resides in Connecticut.
[»] Click here to read more.
DR. BERTICE BERRY, Sociologist, Author and Comedienne



Growing up poor in Wilmington, Delaware, the sixth of seven children, Bertice was told by a high school teacher that she was "not college material". Fortunately, there was another teacher who believed that she was destined for more. Berry applied to several schools without any idea how she would pay the tuition if she were accepted. The day her application arrived at Jacksonville University in Florida, a wealthy benefactor called the Admissions Department looking for a potential student "who could swim if they had the right backing," and might sink without it.
Bertice not only graduated magna cum laude from Jacksonville where she was awarded the President's Cup for leadership, she subsequently earned a Ph.D. in Sociology from Kent State University at the age of 26. Dr. Berry taught sociology and statistics at Kent, and demonstrated that she knew a few things about humor, as well. She became one of the most popular teachers at the university; so popular, in fact, larger lecture halls had to be found to accommodate the ever-increasing number of students. "A colleague said to me, 'You're funny', and I said, 'No I'm not, I'm a scholar," recounts Dr. Berry. It was then that she realized by using humor in her lectures to address such difficult subjects as racisms and sexism she was making a more profound impact.
Shortly thereafter, Berry left Kent to become an award-winning entertainer, lecturer and comedienne. From 1991 through 1994 she won the coveted national Comedian of the Year Award, and was also named Campus Lecturer of the Year and Campus Entertainer of the Year. She had created a niche as both a gifted speaker with a comic edge and a comic with a serious message. Her busy schedule included over 200 appearances a year.
Berry was the host and co-executive producer of her own nationally syndicated talk show, "The Bertice Berry Show," and hosted "USA Live," a four-hour live interview and entertainment show on the USA Cable Network. She's been featured on numerous other television programs, including appearances on "The Oprah Winfrey Show," "The Tonight Show with Jay Leno," and more recently on ABC's "20/20".
Dr. Bertice Berry is also the best-selling author of an inspirational memoir, I'm On My Way, But Your Foot Is On My Head, and the hilarious bestsellers Sckraight From the Ghetto, You Might Be Ghetto If and the sequel You STILL Ghetto. Her first work of fiction, Redemption Song, published by Double Day in 2000, is also a Best-seller and has been praised by critics for its' ability to entertain, inspire and educate. Berry followed Redemption Song, with another bestseller, The Haunting of Hip Hop and took her readers on a journey to the other side. In August 2002, she released her most passionate work ever with Jim & Louella Homemade Heart-fix Remedy, a tantalizing yet spiritual tale that has won several awards. Berry's wit and wisdom shine through in her novel about looking for love in all the wrong places---and with all the wrong people, "When Love Calls, You Better Answer"; released the summer of 2005. A gifted and accomplished singer, she soothes the heart and spirit with her soon to be released CD, "Breathe", a delicate mix of meditation and song. Her next book, "The Ties That Bind", bridges the past with the future and is more personal---tracing the history of her family.
Despite all of her honors and achievements, Dr. Berry is most proud of becoming the "instant mother" to her sister's four young children. She lives in Savannah, GA where she is active in the community. "When you walk with purpose," Berry says, "you collide with destiny!"
[»] Click here to read more.
JEANNIE RALSTON, Author, Blogger, Lavender Farmer and Humanitarian



Jeannie Ralston's first book, The Unlikely Lavender Queen: A Memoir of Unexpected Blossoming, is the story of growth and maturation, both the personal and botanical variety. After a stimulating former life as a magazine writer in Manhattan and Austin, Ralston reluctantly moves to rural Texas as part of a bargain with her husband. Eventually, she takes over the lavender farm he has started and builds it into a successful business-in the process transforming herself, her community, and the agricultural industry of her area.
The book follows the development of Hill Country Lavender with its 4 1/2 acres of flowers, through droughts, grasshopper plagues and other agricultural set backs, and details Ralston's parallel evolution. The book is about love, commitment and learning to let go. Ralston comes to realize that sometimes you don't get everything you want out of life. Sometimes you get lavender.
For more than 23 years, Ralston has been writing for magazines, both on-staff and as a freelancer. Her work has been published in Life, Time, National Geographic, The New York Times, Smithsonian, Audubon, Texas Monthly, Glamour, Conde Nast Traveler, Travel & Leisure, Real Simple and This Old House. She was a contributing editor for Allure for eight years, for Ladies Home Journal for three years and has held that position at Parenting magazine for the past eight years.
A native of Kingsport, Tennessee and a graduate of the University of South Carolina, Ralston now lives with her husband-photographer Robb Kendrick-and two sons in the charming colonial town of San Miguel de Allende in the central mountains of Mexico.
[»] Click here to read the interview with Jeannie Ralston.
2FIK, Interdisciplinary Artist



Born in Paris in a Moroccan Muslim family, 2Fik has lived in France for most of his life. As he also spent several years in Morocco, he also identifies with it's culture. In 2003, on the spur-of-the-moment, he came to Montreal, a destination chosen for its apparent tranquility. Following his emigration experiences, 2Fik rapidly found himself amidst a fusion of religion, politics and society.

As an artistic director, photographer and model, 2Fik captures pictures of himself that he likens to a single image. He can therefore be found several times in his photographs, in various attitudes and sporting a range of accessories. Through his toying with reality and fiction, the viewer becomes confused. 2Fik's recurrent characters end up embodying real individuals to whom the artist gives a complete identity: personality, age, sex, origin, occupation and interests. These figures are related to each other: they arise from the universe and life experiences of the artist.

2Fik assigns them traits taken from his own personality, discreetly unfolding through his disguises. The protagonists come to live against the backdrop of a multicultural Montreal, simultaneously creating time a TV-style reality show where their destinies revolve around Fatima. She is central to all the other characters: Abdel, Manon, Benjamin, Sofiane, Marco, Alice, and Francine. The sum of these character's experiences and their emotional baggage add up to different social realities, providing keys to understanding their respective existence. Conducted from a voyeuristic perspective, the photographs generate our desire to know what was happening outside the frame. However, a second interpretation takes us beyond reality television, because these lives are in reality a reflection of our current society.

2Fik's photographs draw the viewer into a true societal melting pot. At first glance his approach induces laughter, however on a sub textual level the mood darkens to the point where viewers might find themselves questioning their own identity. 2Fik intends a playful, yet powerful approach as he attempts to achieve a social reflection. The approach is intended 2Fik playful, but powerful in the sub-text to achieve a social reflection. Stereotypes encourage viewers to discuss the idea of universality, because in the stories everyone can recognize a part of themselves. 2Fik's photographs transport us into a true melding of society.

[»] Click here to read more.
NARCISCO RODRIGUEZ, world famous fashion designer



Born in New Jersey of Cuban-American parents, fashion designer received his formal education at the famous Parson's School of Design in New York. Following freelance work in New York's garment industry, he joined Anne Klein under Donna Karan, and later Calvin Klein designing women's ready-to-wear.

In 1995, Rodriguez became design director of TSE where he presented ready-to-wear collections for men and women in New York, simultaneously. Rodriguez was appointed design director of Cerruti in Paris. It was at Cerruti that Narciso received worldwide attention when he designed the bias cut sheath wedding dress that his friend Carolyn Bessette would wear when she married John Kennedy, Jr.

In October 1997, the first women's ready-to-wear collection under the label, in partnership with Italian manufacturer Aeffe, was presented in Milan for the Spring/Summer 1998 season. Following the collection, Rodriguez was awarded Best New Designer at the Vogue VH1 Fashion Awards in New York City and the Perry Ellis Award For Best New Designer by the Council of Fashion Designers of America.

He has been at the top of his game and leading the way in the world of fashion, ever since.

[»] Click here to read the interview with Narcisco.
JEROME WILLIAMS, Former NBA Player and Community Activist



Jerome "JYD" Williams is considered one of the greatest role players to ever play for the NBA. In 2000, Jerome led the league in high rebounding percentages and was ranked 3rd overall in offensive rating. He also collected three NBA Community Awards throughout his nine year career.
In aspiring to grow both personally and professionally, Jerome paid his own tuition to attend a local junior college that led him to acquire an A.A. degree in Business Administration. He also earned a Student Athlete Award and a full athletic scholarship to continue his education at Georgetown University. As life seemed to come full circle for Jerome, he set his goals on graduation and positioning himself for a corporate role in the Washington, DC workplace. During his final two years of college, he played basketball on national television, served as team spokesman, was selected to play on the USA Basketball college team, and interned with Arthur Anderson accounting firm and graduated on the Dean's List.
Unlike many athletes, Jerome was drafted in the 1st round of the NBA and continued his career in cities like Detroit, Toronto, Chicago and New York. During his career, Jerome thrived in various roles such as starter, rebounder, cheerleader, community advocate and NBA Players Union representative. In 2000, Jerome was selected by other NBA players to serve in an executive role as their Union Vice President. During the NBA off-season, Jerome strategically positioned himself to have an influential role within the NBA. Jerome made strategic and calculated decisions that would allow him the opportunity to have "inside look' at the many components that make-up the NBA's multi-billion dollar organization—such as being one of the only active players to intern at the NBA offices.
Jerome cultivated a starring role as Ambassador for NBA Cares, an NBA TV correspondent, NBA Fit spokesman and the NBA Goodwill Ambassador to South Africa, Israel, South America, Shanghai, Philippines, Beijing and Bahrain. Jerome's community efforts gained him national media exposure, numerous community service awards and two special invitations to dine at the White House during the George W. Bush administration. He also joined the NBA's "Basketball Without Borders" Program, an effort to teach the game and bring resources to underdeveloped nations in Africa, Asia and elsewhere. For Jerome's efforts to prepare high school seniors and college students with life skills for independent living; the Fannie Mae Foundation honored him by presenting him with their National "Home Team" Award. He also rang the stock bell at both the New York and Toronto Stock Exchanges.
Now retired, Jerome remains busier than ever running both an automotive publication (Urban Auto) and a very much needed children's charity--the JYD P.R.O.J.E.C.T.-- and its mission is to "unify people of all nationalities in a collective effort to save our kids." His passion for both cars and motivating people has spawned the theme, "preparing children along the road to the workplace". In 2007, he was invited to the White House by President George W. Bush. In 2009, Jerome served as a Nevada State Democratic Delegate for President Barack Obama.
Aside from being one of the hardest working men in philanthropy, Jerome became certified to operate a semi-truck, received GM Certification from Sports Management Worldwide which allows him to manage an NBA team, speak professionally--both internationally and domestically--all while maintaining his most enjoyable role as husband and dad.
Jerome Williams resides in Las Vegas, Nevada with his wife Nikkolette and their children- Sherae, Gabby, Giselle and Jeremiah. He is available to consult and speak/train at corporate conferences, staff trainings, university lectures, NCAA team building workshops and NBA player transition coaching.
[»] Click here to read more.
SAID SAYRAFIEZADEH, Author



Saïd Sayrafiezadeh is the author, most recently, of the critically acclaimed memoir When Skateboards Will Be Free. Dwight Garner, writing in the New York Times, praised it as being "exacting and finely made... [written] with extraordinary power and restraint." Sayrafiezadeh's stories and essays have appeared in The Paris Review, Granta, Open City, and other publications. He lives in New York City with his wife.

[»] Click here to read more.
DAVID TURNLEY, Pulitzer Prize winning photojournalist


David Turnley is considered by many to be one of the best documentary photographers working today. Winner of the Pulitzer Prize, two World Press Photos of the Year, and the Robert Capa Award for Courage, he has photographed the human condition in some 75 countries around the world. Turnley was a Detroit Free Press staff photographer from 1980 to 1998. He was based in South Africa from 1985 to 1987, where he documented the country under Apartheid rule. He was based in Paris from 1987 to 1997, covering such events as the Persian Gulf War, revolutions in Eastern Europe, student uprisings in China and the disintegration of the Soviet Union. He has published seven books of his photographic work including his last "Mandela: In Times of Struggle and Triumph", from his extensive time over the last twenty five years photographing the evolution of South Africa, Nelson Mandela and his family. Turnley earned a B.A. in French Literature from the University of Michigan, received Honorary Doctoral degrees from the New School of Social Research in 1997, the University of St. Francis in 2003,  and has also studied at the Sorbonne in Paris. He studied filmmaking under a Nieman Foundation Fellowship at Harvard in 1997-1998. David has Directed and Produced three feature-length Documentaries. The Dalai Lama: At Home and in Exile, for CNN, nominated for an Emmy; La Tropical, called by Albert Maysles "the most sensual film ever shot in Cuba"; and his recently released, four year in the making, epic story of Shenandoah, located in the tough coal region of Pennsylvania. David is an Associate Professor at his alma mater, the University of Michigan, School of Art and Design, and The Residential College. The proud father of two children, David lives with his wife Rachel and family, in Ann Arbor, Michigan.

[»] Click here to read more.
DOLEN PERKINS-VALDEZ, Author



Dolen Perkins-Valdez's fiction and essays have appeared in StoryQuarterly, Robert Olen Butler Prize Stories 2009, The Kenyon Review, PMS: PoemMemoirStory, North Carolina Literary Review, and Richard Wright Newsletter. Born and raised in Memphis, a graduate of Harvard, and a former University of California postdoctoral fellow, Perkins-Valdez teaches creative writing at the University of Puget Sound. She splits her time between Washington, DC and Seattle, Washington. This is her first novel. This is her first novel.

[»] Click here to read more.
GERRY SOUTER, Author, Photojournalist, Filmmaker and a Liberal member of the NRA


Gerry Souter received his degree from the Art Institute of Chicago and the University of Chicago. He has worked as an art teacher, an officer for the Arizona State Guard and Detective Agency.
His creative experience as an international photojournalist, filmmaker, and award-winning video director, producer, and writer has been extensive. He and his wife, Janet, have authored and coauthored more than forty-eight nonfiction books in the areas of history, biography, young adult, art, military history, business, and the Internet. Recent titles include The Chicago Air and Water Show: A History of Wings above the Waves (History Press, 2010), The Vietnam War Experience (Carlton Books, 2008), Military Rifles-Fierce Firepower (Enslow, 2006) American Realism-10 American Painters (Sirrocco, 2009) and War in Afghanistan and Iraq (Carlton Books, 2011). They live near Chicago.
[»] Click here to read more.
After graduating with a BA in History at University of California, Davis, and an MA in Economics at California State University Sacramento, I worked as a Resource Economist/Environmental Consultant for many years. In 1991, I began writing fiction for adults and children.
My recently published novel, Across the Mekong River, was a finalist in the Carolina Wren Press 2010 Doris Bakwin Award for adult novels, the Maui Writer's Conference 2003 Rupert Hughes Prose Writing Competition, and the Focus on Writers 2001 Friends of the Sacramento Library Awards.
My short story "Sky King," about a Hmong-American family was published in the literary magazines Red Wheelbarrow, Summer 2004, and The Armchair Aesthete, Fall 2004, and won First Place for a Short Story in the WIN-WIN Conference 2003 Persie Writing Contest. Other published works include several short stories and a children's middle-grade adventure series: Martin McMillan and the Lost Inca City and Martin McMillan and the Secret of the Ruby Elephant.
I am married with three grown children. I currently reside with my husband in Sacramento, CA. and part time on the island of Kauai.
ROGER SAILLANT, Novelist, Sustainability Expert and Executive Director of the Fowler Center for Sustainable Value



Roger Saillant has recently been appointed to the newly created position of Executive Director of The Fowler Center for Sustainable Value at Case Western Reserve University. Previously, he served in senior executive positions at The Ford Motor Company, Visteon Corporation, and, most recently, Plug Power where he was the CEO for more than seven years. In each of those positions, his behavior could be characterized as both challenging others to learn and grow while delivering strong results to the bottom line and the community. He is deeply committed to promoting improvements in the way businesses are agents of change in the world both socially and environmentally. He has led organizations as large as 10,000 people and has been responsible for operations in 19 countries. He presently serves on several NGO boards and the boards of two start-up companies in the energy field and teaches climate change at the Marlboro Graduate School in Brattleboro, Vermont. He is a strong advocate for sustainability and speaks frequently on various environmental topics. He co-authored his first novel, Vapor Trails, in 2009 (available on Amazon.com).

[»] Click here to read more.
LEO PREZIOSI, Founder and Executive Director, Live Out Loud



Founded on the East Coast by Leo Preziosi, Jr. this non-profit organization is built on a singular premise --- to inspire Lesbian, Gay, Bisexual and Transgender kids to live proud. The inspiration came from a Metro Source article titled, "The Gun in the Closet," which talked about two high school students who committed suicide because of societal bullying. Knowing what had to be done, Preziosi dedicated himself to helping young adults connect to role models and leaders in the community. Many years later, ten and still counting, Live Out Loud continues to bring innovative programming throughout the tri-state area, and to inspire and lead by example. Since its inception, Live Out Loud has had the opportunity to bring over 500 LGBT role models to NY tri-state area high schools and universities, involving renowned panelists from every walk of life. From spiritual leaders to fashion designers to corporate powerhouse and grass roots activists, Live Out Loud speakers have touched thousands of lives. In his former incarnation, Leo Preziosi, Jr. was a Fashion Designer working for a number of apparel companies including Gloria Sachs and Banana Republic. In 1990, he began his volunteerism by aligning with DIFFA, the Design Industry Foundation for AIDS in event production. This led to an opportunity at Felissimo, a specialty lifestyle retailer, where he repositioned the tearoom and joined the marketing team collaborating with numerous organizations including the Merce Cunningham Dance Company, The United Nations, and The Rain Forest Foundation.
Leo is a graduate of Fashion Institute of Technology with a B.S. in Textile Production Management and an A.A.S. in Fashion Design. He currently lives in New York.
[»] Click here to read more.
BOB HARRIS & JULIE MORSE, World Traveler and Author



Julie
Julie Morse is a veteran writer, motivational speaker, and communications expert with additional professional experience in sales and marketing. While previously best known for her writing work as a columnist for the Chicago Sun-Times Media Group newspapers and as a former features writer for the Chicago Tribune, Julie is now garnering attention as an author. She recently achieved her life-long dream of writing and publishing a book – twice over.
In Summer 2012, her creative nonfiction title, Out of the Box: The Mostly True Story of a Mysterious Man debuted on bookshelves with advance praise from Kirkus Reviews. Also, releasing August 14, 2012, is Julie's children's book, When Billy Went Bald. Inspired by her own son's victory over cancer, the book helps young children better understand and embrace a cancer patient's journey.
Julie currently resides on Chicago's North Shore with her husband... and together they have six grown children, all residing in the Chicago area.
Bob (as told by Julie)
Mystery, adventure, travels, wealth... I learned about all this and more when writing the life story of box salesman extraordinaiare Bob Harris.  It's truly exciting to share this septuagenarian's life story with the world now because he is such an amazing and, yes, mysterious person. Few people who work with him now, or worked with him over his career, know the full extent of his exploits and accomplishments behind the scenes.  His story is full of surprises and I was honored to be the one he told them too... When I asked if he'd let me write his life story three years ago, he said, "Well, why not...nearly everybody who matters is dead anyway!" I had no idea how involved or far-reaching those discussions would be. Bob didn't disappoint!
[»] Click here to read the interview with Bob and Julie.
JANIS KEARNEY, Former Personal Diarist to President Bill Clinton



Born in Gould, Arkansas, Janis Kearney was one of eighteen children of parents Ethel V. Kearney and James Kearney. After graduating from Gould High School in 1971, Kearney attended the University of Arkansas in Fayetteville, earning a B.A. in journalism in 1976. She continued on with her education while working, earning thirty hours towards a M.P.A. from the University of Arkansas at Little Rock.

After earning her B.A. degree, Kearney was hired by the State of Arkansas in 1978, where she spent three years as a program manager for the Comprehensive Employment and Training Act program, and another six years as the director of information for the national headquarters of the Migrant Student Records Transfer System. Leaving government work, Kearney purchased the Arkansas State Press newspaper from Daisy Bates in 1987. She published the weekly paper for five years before joining the Clinton-Gore presidential campaign in 1992, where she served as director of minority media outreach. The following year, Kearney joined President Bill Clinton's transition team. She began with the White House Media Affairs Office before being appointed as the director of public affairs and communications for the U.S. Small Business Administration, where she worked until 1995. That year, Kearney became the first presidential diarist in U.S. history, chronicling President Clinton's day-to-day life. She remained in this capacity until President Clinton left office. Kearney came under scrutiny during the Starr Committee proceedings when her diary and testimony were subpoenaed. No wrongdoing was found.

After President Clinton left office, Kearney was named a fellow at Harvard University's W.E.B. DuBois Institute in 2001, where she began work on a book about President Clinton entitled Conversations: William Jefferson Clinton - From Hope to Harlem. Kearney and her husband, former White House director of presidential personnel Bob Nash, are no strangers to the issues of race that still plague America. They were racially profiled by police following a car-jacking of a vehicle similar to theirs while still employed at the White House. Today, Kearney is the Chancellor's Lecturer at the City Colleges of Chicago and continues her DuBois Institute writing project, as well as her work on Cotton Field of Dreams: A Memoir. [»] Click here to read more.
JOHN POLLACK, Former Speech Writer to President Bill Clinton


A former speechwriter for President Bill Clinton, John Pollack has built the world's first cork boat.

Prior to his work in the private sector, John worked at the White House and on Capitol Hill, where he was the wordsmith for House Democratic Whip David Bonior. John's speechwriting skills developed from extensive campaign experience and his work as a journalist, both in the United States and abroad.

A 1988 graduate of Stanford University, he began his writing career as a reporter for the Hartford Courant, covering local government in suburban Connecticut. Later, he spent three years in Spain as a foreign correspondent, covering everything from business to bullfights for the Associated Press, the Los Angeles Times, Advertising Age and other media. His first book, The World On a String: How to Become a Freelance Foreign Correspondent, grew out of that experience. Recently, he published Cork Boat, a non-fiction account of his 30-year quest to build a 22-foot Viking ship made completely from wine corks, and its 2002 voyage down Portugal's Douro River.

To the chagrin of his colleagues, John won the 1995 World Pun Championship - his first and only world title. He lives in New York City.

[»] Click here to read the interview with John Pollack.
EGYPT, Radio and Television Personality and Talk Show Host



The award-winning broadcast talent is well known for being a staple on radio in major cities like 100.3 The Beat(Philadelphia), 92Q (Baltimore), and currently on Power 105.1 FM(New York) where she's a popular morning show personality of "The Ed Lover Show with Egypt and Ashy". Egypt is also the current voice of Premiere Radio Networks' entertainment report amidst the syndicated show "Live in the Den with Tigger", which can be heard in over 60 markets, making her one of the most recognizable voices in the syndicated radio arena.

EGYPT can currently be seen as a regular correspondent on The Maury Show and was co-host of the hit TV show on the WB Network "Home Delivery." Egypt began her television career as BET's favorite guest hosts for shows like Planet Groove, Rap City, BET LIVE, and was co-host on UPN's "The Source Soundlab " with actor/recording artist Ray-J. Egypt also hosts the online shows AOL's "Top 11 Countdown", and UPN's "Talk Model".

Additionally, she's starred in her very own national TV and radio commercial campaign for the launch of Chrysler's PT Cruiser . Additionally, she starred in her very own national TV and radio commercial campaign for the launch of Chrysler's PT Cruiser .

[»] Click here to read more.
ÁINE DUGGAN, VP for Research, Policy & Education, The Food Bank For New York City





Since 2004, Áine Duggan has served as the Vice President for Research, Policy & Education with the Food Bank For New York City. Áine supervises and sets the strategic direction for the Food Bank's public policy initiatives and is responsible for government and community relations as well as managing the organization's innovative education programs.

Prior to joining the Food Bank, Áine gained extensive experience in rights-based and community development programming and public policy. She has spent more than fifteen years working with, serving on boards, contributing to publications and acting as a public commentator for organizations in New York and Ireland dealing with homelessness, HIV/AIDS, refugee rights and immigration, and lesbian, gay, bisexual and transgender issues. Prior to taking up full-time residence in the United States, she received her M.A. from University College Dublin, Ireland.

[»] Click here to read the interview with Áine Duggan.
CANDACE ANITRA, Singer, Songwriter


Candice Anitra is a singer who believes that a song must be drawn from the heart and her songs are a reflection of a woman who courageously lives her convictions. Her strength and determination are second only to her grace and quiet charm. Candice quiet force whose music inspires and encourages others to find their own voice.

[»] Click here to read more.
DAWOUD BEY, Celebrated Photographer


Dawoud Bey was born in Queens, NY and began his career as a photographer in 1975 with a series of photographs, "Harlem, USA," that were later exhibited in his first one-person exhibition at the Studio Museum in Harlem in 1979. He has since had numerous exhibitions worldwide, at such institutions as the Art Institute of Chicago, the Barbican Centre in London, the Cleveland Museum of Art, the Los Angeles County Museum of Art, the Detroit Institute of Arts, the High Museum of Art in Atlanta, GA, the National Portrait Gallery in London, and the Whitney Museum of American Art among many others. The Walker Art Center organized a mid-career survey of his work, "Dawoud Bey: Portraits 1975-1995," that traveled to institutions throughout the United States and Europe. A major publication was also published in conjunction with the exhibition. Aperture recently published his latest project Class Pictures in September 2007 and has organized a traveling exhibition of this work that is touring museums throughout the country through 2010.
Bey's works are included in the permanent collections of numerous museums, both in the United States and abroad, including the Addison Gallery of American Art, the Art Institute of Chicago, the Brooklyn Museum, the Detroit Institute of Arts, the High Museum of Art, the Museum of Modern Art, NY, the San Francisco Museum of Modern Art, the Whitney Museum of American Art, and other museums world wide. He has been honored with numerous fellowships over the course of his long career, including the Guggenheim Foundation Fellowship and a fellowship from the National Endowment for the Arts. He has lectured at numerous museum and institutions throughout the United States and Europe. His critical writings have appeared in publications throughout Europe and the United States, and he has curated exhibitions at museums and galleries internationally as well.
Dawoud Bey holds a Master of Fine Arts (MFA) degree from Yale University, and is currently Distinguished College Artist and Professor of Photography at Columbia College Chicago, where has taught since 1998.
[»] Click here to read the interview with Dawoud.
CARL TITOLO Art Professor, Artist



Hands down one of the most engaging conversations that I have had the pleasure to have. Carl Titolo is candid and real. I appreciated the wisdom that he so generously dispensed and I will enthusiastically take many of his golden nuggets of wisdom with me into tomorrow...

[»] Click here to read more.
AUTHOR AND ADVOCATE, LISA BROWN



Lisa M. Brown is a passionate and dynamic entrepreneur who, with the help of God, overcame depression to lead a thriving consulting business. As a business owner, daughter, sister, and mother of three, she brings her rich Christian heritage and experiences as a Black woman living in America to the very important issue of depression.

Despite her five-year battle with depression, Lisa attained professional success early in her career and at the age of 35, became one of the youngest senior executives with the American Association of Homes and Services for the Aging, a Washington, D.C.-based trade association. She later went on to build Nonprofit HR Solutions, a fast-growing, trail-blazing consulting firm focused on meeting the human resources needs of nonprofit organizations. She is also active in her community and has served on several nonprofit Boards of Directors including the DC Rape Crisis Center and the African American Nonprofit Network. She was also the co-producer of the 2010 Lake Arbor Jazz Festival, a first-of-its-kind event in Mitchellville, MD that brought together contemporary and traditional jazz lovers in a local community setting.

Lisa is deeply committed to living out her faith in God in a meaningful way. And currently attends Bladensburg SDA Church.

As a depression survivor, she now openly shares both the pains and triumphs associated with living with chronic sadness and having overcome. [»] Click here to read more.
YAMA JEAN-PHILIPPE Painter



born in lefferts general hospital in brooklyn june 12 1974 at 1:42pm or 1:43pm.......raised in islandia long island...moved back to brooklyn at age 18......never left......paris bound next.....loves his mom....alot.

[»] Click here to read more.




SHEILA RULE, Journalist and Executive Director of The Think Outside The Cell Foundation


Sheila Rule is on a passionate mission to remove the stigma from people who have or are currently serving time in prison. Her efforts are fueled by the inspiration that exists behind prison walls and she works tirelessly to bring the humanity of the imprisoned to the world outside.

[»] Click here to read more.
JEFF JOHNSON, International Journalist * ,Social Activist * Political Consultant * Inspirational Speaker


From the Hip-Hop community to mainstream media, Jeff Johnson serves as a trusted voice for information and opinions to a new generation. A social activist, political strategist, inspirational speaker, executive producer and an architect for social change, Johnson is one of today's most gifted leaders in both the political and entertainment arenas.

Recently, Johnson was named by Source Magazine as one of the hip hop generation's key political players. Johnson has spent the last decade carving out a unique niche of merging the worlds of politics and popular culture providing cutting-edge strategic and leadership-based consulting for youth and urban demographics.

Jeff has served as the National Youth Director for the NAACP and was sent by BET on assignment to the Darfur region of Sudan 2007. Johnson is also one of only two news correspondents to interview Sudan's President Omar Al-Bashir within the past thirteen years. An established investigative journalist, Johnson has interviewed 2008 presidential candidates Barack Obama and Hillary Clinton on BET specials regarding key issues facing the African-American community.

In every aspect of his political leadership, Johnson has been highly instrumental in representing and articulating the views of young people and galvanizing voters to the polls. Johnson's powerful reputation as a political organizer caused hip-hop mogul Russell Simmons to take notice, leading Simmons to appoint Johnson as Vice-President for the Hip-Hop Summit Action Network. In 2007, he testified before the Committee on Homeland Security regarding recovery efforts in wake of the devastation caused to the Gulf Coast by Hurricane Katrina.

In 2004, upon recognizing his socio-political influence and media adeptness, network executives at BET offered Johnson a unique opportunity to present his views to the hip-hop generation nationally through a consistent media vehicle. Thus, Rap City's Cousin Jeff was born. Shortly thereafter, Johnson began producing his own show, the "Jeff Johnson Chronicles" addressing issues relevant to young people in urban America.

He was the only American reporter to receive an exclusive interview with the continent of Africa's first female head of state, Ellen Johnson-Sirleaf in Liberia.

Johnson currently provides columns in leading urban lifestyle magazines, and serves as a contributor and international correspondent for news broadcasts such as XM radio, The Dr. Phil Show and CNN.

[»] Click here to read more.
SARA MILES, Author and Founder of St. Gregory's Food Pantry



Sara Miles is the author of How to Hack a Party Line: The Democrats and Silicon Valley and co-editor of Directed by Desire: The Collected Poems of June Jordan and the anthology Opposite Sex. Her work has appeared in The New York Times Magazine, The New Yorker, Out, The Progressive, La Jornada and Salon, among others. She has written extensively on military affairs, politics and culture. The founder of St. Gregory's Food Pantry, she lives in San Francisco with her family.

[»] Click here to read the interview with Sara.
WUNMI, Singer, Songwriter, Dancer, Stylist



In the world of dance music, Wunmi is a one-off, an artist that effortlessly joins the dots between Nigeria's Afrobeat heritage, New York's house pedigree and London's jazz, broken beat and classic street soul sounds. In 2006, after over 10 years of classic collaborations working with production heavyweights like Masters At Work, Seiji and Truby Trio, Wunmi is finally heading solo with her much anticipated debut album.

Born in London, Wunmi lived in Nigeria for 10 years, returning to the UK aged 14. The enduring image from Wunmi's early years in music was in summer 1986 as the dancer silhouetted in Soul II Soul's 'Back To Life' video. As an integral dancer within the Soul II Soul set-up, Wunmi quickly established a bold, self-styled image with flowing braids and her own outrageous clothes which became a valuable addition to the Funki Dred identity. She was subsequently chosen as an icon of London underground club culture when featured in Kiss FM London's first advertising campaign as a commercial station.

In the late '90s, teaming up with Kenny "Dope" Gonzalez and Louie Vega for Masters At Work's classic 1998 re-work of Fela Kuti's 'Expensive Sh*t', 'M.A.W. Expensive (Tribute To Fela)' and the equally strong follow-ups, 'Ekabo' and 'Time Is Now'. The tracks paved the way for a slew of Nu Yorican Afro-house workouts from the likes of Dennis Ferrer, Jerome Sydenham and more and stamped Wunmi's unique vocal style on dance floors worldwide. The collab continued on at the Miami Winter Conference and Masters At Work's legendary Nu Yorican Soul parties in 2000 and 2001 where Wunmi performed through the Havana cigar smoke alongside Stephanie Mills, Jocelyn Brown, Jody Watley, Roy Ayers and more.

More acclaimed collaborations followed. Her solo debut 'What A See', brilliantly reworked by A Guy Called Gerald and Osunlade's 'Rader Du' for Soul Jazz in 2001. Paper magazine promptly voted Wunmi as one of their '50 Beautiful People'. Premier league producers continued to queue up - King Britt requested some Wunmi spice for his 'Oba Funke' album project as well as studio wizard Ras for Germany's Sonar Kollektiv. When the Red Hot organization commissioned an ambitious album paying tribute to Afrobeat Godfather Fela Kuti in 2004, Wunmi was top of their list. The result, a dynamite version of Fela's 'Zombie' backed by Bugz In The Attic's razor sharp beats, became the big club track from the project and was accompanied by some memorable live dates.

Alongside her music, Wunmi has become a vital link between today's global dance music culture and the vast musical history of Nigeria. She narrated a potted history of Nigerian music for Strut Records' 'Nigeria 70' anthology during 2001 and would later voice an audio documentary on Fela Kuti for the BBC.

On-stage, Wunmi is a revelation. The Wunmi stage show has become known for its explosive energy with her trademark outfits, hi-octane dance moves, a super-tight band and an infectious spirit that draws in crowds wherever she plays. Highlights? A memorable appearance at Out Of Africa's London Summer street party in 2004, Jump 'N' Funk in New York and .....

For her debut album, Wunmi has linked up with many of the top producers that have featured her vocals over the years from Seiji, Truby Trio and Fauna Flash to Pastaboys and Siji. The new album is called 'A.L.A.', standing for 'Africans Living Abroad' and, behind the trademark Wunmi grooves, she tackles some difficult issues. There are tracks exploring the alienation of living away from home, the stark choices faced by those who fall outside of "the system" and the continuing corruption of governments and fat cats worldwide. It is Wunmi talking from the heart and represents some of her best work, establishing her as one of dance music's real enigmas.

[»] Click here to read more.
LAMONT GRAVES, Television Talk Show Host



Philadelphia native LaMont Graves is a reality television show host, entrepreneur and philanthropist. He created the television show, Everyday Heroes, to showcase people who have embraced the ideology of paying it forward. People have given to them and they have made the choice to give to others. Everyday Heroes allows Graves to spread his message of hope and giving back to millions of people across the country.

His determination to showcase others who do good has paid off in many ways. Although only six episodes of the show aired on Comcast Television Network's CN8, the show recently received two Emmys and has been nominated for three others. That is an unprecedented amount of recognition for a reality series and proved the point that reality television can be a dynamic tool for change.

As a child, Graves endured nights on park benches and days trying to navigate tough schools. He promised himself that if he were to become successful in his life that he would give back to others in various ways. After being laid off from a job as a mental health therapist for The Developmental Center for Autistic Children, Graves was able to convince McGettigan Corporate Planning Services in Philadelphia to give him a job. Working in their planning department for five years gave him an in-depth understanding of the meeting planning business. After leaving McGettigan he moved to South Florida where he launched OnSite Meeting Management. He's owned the meeting and event planning business for more than 19 years.

Holding true to his promise, he began supporting their south Florida community through Thanksgiving and Christmas giveaways. Soon, he was spreading his joy throughout the country. Five years ago he began his mission in earnest as he serviced more than 800 families in five cities. Since that time, he has continued to give to people in cities from Philadelphia to Los Angeles.

Beginning in the winter of 2006, Graves and a team of writers and producers talked about the creation of a show that would put a positive spin on the reality television genre. During discussions, it became obvious that the show should reflect his life's mission. He believed it would be fitting to tell the stories of others who overcame odds and in return gave back to their communities.

After a year of pitching the show to various interested networks, the first episode of the show aired in the spring of 2008. Appropriately enough, the debut episode focused on Graves' story of beating the odds to achieve success. Other shows focused attention on issues ranging from adoption through child abuse.

[»] Click here to read more.
GENESIS BE, Writer, Producer, Rapper and Social Activist



Activists occupy a special place in my heart. Young activists passionate about making a difference, courageous about taking a stand for what they believe in – they are my heroes. Genesis Be is young and gifted and determined and focused and she is living her future right now. Amazing!

[»] Click here to read more.
DJ SPOOKY - That Subliminal Kid



DJ SPOOKY is a composer, multimedia artist and writer. His written work has appeared in The Village Voice, The Source, Artforum and Rapgun amongst other publications. Miller's work as a media artist has appeared in a wide variety of contexts such as the Whitney Biennial; The Venice Biennial for Architecture (2000); the Ludwig Museum in Cologne, Germany; Kunsthalle, Vienna; The Andy Warhol Museum in Pittsburgh and many other museums and galleries. His work New York Is Now has been exhibited in the Africa Pavilion of the 52 Venice Biennial 2007, and the Miami/Art Basel fair of 2007. Miller's first collection of essays, entitled Rhythm Science came out on MIT Press 2004. His book Sound Unbound, an anthology of writings on electronic music and digital media was recently released by MIT Press. Miller's deep interest in reggae and dub has resulted in a series of compilations, remixes and collections of material from the vaults of the legendary Jamaican label, Trojan Records. Other releases include Optometry (2002), a jazz project featuring some of the best players in the downtown NYC jazz scene, and Dubtometry (2003) featuring Lee 'Scratch' Perry and Mad Professor. Miller's latest collaborative release, Drums of Death, features Dave Lombardo of Slayer and Chuck D of Public Enemy among others. He also produced material on Yoko Ono's new album Yes, I'm a Witch.
[»] Click here to read more.
AVERY SUNSHINE, Songstress, Pianist and Composer


On a stormy night in July 1997, two young girls waiting for a ride at a shopping mall disappear without a trace... Simultaneously a murder-mystery and an exposé of endemic corruption in the post-Marcos Philippines, GIVE UP TOMORROW centers on the trial of Paco Larrañaga, a young Mestizo (of Spanish descent) accused of killing two Chinese-Filipino sisters on the island of Cebu. Capturing how a rapacious media circus stoked ethnic and class hatred to prejudice public perception, the film reveals the extraordinary judicial violations that resulted in Paco's death sentence. Secret filming from Paco's cell exposes the appalling conditions of Filipino prisons, where thousands like him languish without fair trial. This story is intensely personal with far-reaching global implications: Paco's case was eventually championed by international human rights groups, including the UN; their efforts eventually led to the abolishment of capital punishment in the Philippines, saving hundreds of inmates whose possible innocence may have been disregarded by flawed judicial and social systems. ~ Courtesy of Tribeca Film Institute

[»] Click here to read more.
ISHLE PARK, Poet Laureate


Ishle Park is a Korean American woman who is a world-traveling poet, singer, and the first woman to be named the Poet Laureate of Queens ~ the largest and most diverse borough in New York. Dubbed "the Queen of Queens" by her fans, the Borough President declared Park's birthday as "Ishle Yi Park" day in her hometown.

Park's first book, The Temperature of This Water, (Kaya Press, 1994), is the winner of three literary awards, including a Pen America Award for Outstanding Writers of Color and the Member's Choice Award of the Asian American Literary Awards. Her poetry has been published in literary magazines such as Ploughshares, Wasafiri, The Best American Poetry of 2003, and Century of the Tiger: One Hundred Years of Korean Culture in America.

Her poetry CD, Work is Love, includes tracks with Korean traditional drums, Spanish guitar, beatboxing, and music produced by Japan's critically acclaimed DJ Honda. Park has opened for artists such as KRS-One, Ben Harper, and Saul Williams, and has been featured at literary and music festivals, performing her unique blend of poetry and song at over three hundred venues around the world, including Cuba, Jamaica, Singapore, Korea, and New Zealand.

She is a regular on HBO's "Russell Simmons Presents: Def Poetry Jam" and was a touring cast member of the Tony-Award winning production of "Def Poetry Jam." Park is currently working on her first album. [»] Click here to read more.
PAT ARNOLD, Four Time Emmy Award Nominated Veteran Television News Reporter



Humorist, inspirational speaker, and "spiritual sleuth" Pat Arnold authored the whimsical metaphysical memoir, EARTH Is the MOTHER of All Drama Queens: Unmasking the Truth Behind Our Life Stories (Jan. 2005). Pat is a four-time Emmy nominee, veteran television news reporter, and producer with ABC-TV and NBC-TV stations in St. Paul, Chicago, and Dallas.

She is a principal of PhoeniX Productions, a Chicago-based marketing communications firm founded in 1981. The company delivers a full range of services to global corporations, small businesses and non-profit organizations.

Pat has been honored by Today's Chicago Woman magazine as one of "100 Women Making a Difference". She is a past vice president of the National Association of Black Journalists-Chicago Chapter, founding president of the Twin Cities Association of Black Journalists, a sustaining member of the Junior League of Chicago, and a Golden Life member of Delta Sigma Theta Sorority, Inc.

She has taught English, journalism, and public relations at Roosevelt University, the City Colleges of Chicago, and the Chicago Public Schools.

[»] Click here to read more.
AREVA MARTIN, Author, Attorney, Advocate for Autistic Children



Known to audiences across the country from her regular appearances on The Dr. Phil Show, as well as national stints on Fox News, NPR, and Court TV Radio Television, Areva Martin is one of television's most in-demand legal experts/analysts.

A quotable authority on workplace, disability rights, education, custody and women's issues, this accomplished and multi-award winning lawyer, syndicated columnist, author and public speaker is also quoted and or featured on the pages of publications ranging from the Los Angeles Daily Journal to Cookie Magazine to Redbook and the LA Times.

The founding and managing partner of Martin & Martin, LLP, Areva has built a reputation for ACTION. In addition to positioning her firm as one of the premier African-American female owned firms in LA, Areva has developed a multidisciplinary civil practice, which serves some of the nation's top corporations, non-profit organizations, governmental entities and high net-worth individuals. She is also President and co-founder of Special Needs Network, Inc. (SNN), a non-profit launched specifically to support families with special needs children.

In addition to being a sought after legal expert, Areva is also an inspiring author. Her second book, The Everyday Advocate, is scheduled for release by Penguin books in early 2010.

Areva graduated with honors from both the University of Chicago and Harvard Law School. She currently resides in Los Angeles with her family. [»] Click here to read more.
JENNIFER JONES Executive Director of The Stay Strong Foundation



The holiday season is upon us in full force. And, while most thoughts are of happiness, goodwill and Peace on Earth, the holiday season can bring sadness and even depression to some.

Executive Director of The Stay Strong Foundation, Jennifer Jones, offers words of wisdom, an example of a triumph over depression and ultimately a message of hope to those who might be struggling this time of year...

[»] Click here to read more.
KARYN PARSONS, Writer, Producer, Actor



In 1996, Karyn Parsons created co wrote and co-produced the Fox Television half-hour sitcom Lush Life. Following production of the pilot, Parsons attended New York University's film intensive program. Upon completion of that program, Parsons returned to Los Angeles to produce and star in Lush Life. In 1999, Parsons attended Santa Monica College and studied writing under the tutelage of Jim Krusoe, editor of the award-winning Santa Monica Review Literary Journal. Through the college, Parsons received a scholarship to the prestigious Squaw Valley Institute of Writers and received mentorship from such noted authors as Amy Tan, Anne Lamott and Richard Ford.

She has co-directed the short films Stromboli and Eye Spy and has recently completed her solo directing effort, one she also wrote and produced, entitled Jake and Lily. Karyn has also acted in such films as The Ladies Man and Mixing Nia, and alongside Denis Leary in The Job for ABC. She is best known for her role as Hilary Banks on the long-running NBC sitcom The Fresh Prince of Bel Air.

[»] Click here to read the interview with Karyn.
JOHN LEHR, Television Writer, Producer, Performer and Geico Caveman



John Lehr is a comedic writer, monologist and performer working in television, film and theater in Los Angeles and New York. John has written a number of projects--recently creating two pilots and selling one to network and the other to cable. As an actor, John has appeared in numerous television series and feature films. His critically acclaimed monologues have had sold out runs in LA and New York. He recently wrapped his off-Broadway one-man show "The Lehr Curse."

John's writing career began with the pilot script "Electronic Highway" (Brandon Tartikoff, Producer, Viacom) and the series "News Weasels" (E!). John co-wrote and starred in the feature film "Humanoid" (David Schwimmer, Producer). John and his wife Jennifer optioned the half-hour "Monogamy American Style" to 20th Century Fox and created and hosted "Garage Sale," a pilot for ABC Family. In 2003, John created, starred and executive produced the scripted/improvised pilot for FBC entitled "Empyrean Way." In 2004, NBC purchased John's sitcom "Nature/Nurture" for David Schwimmer's Dark Harbor Stories. In 2005, John shot his pilot, "10 Items or Less" (which he Created, Executive Produced and Starred in) for Sony Pictures Television and TBS. He is also writing and Executive Producing the pilot script "Ill-Equipped for a Life of Sex" with his wife, Jennifer, and Executive Producer Peter Mehlman for Warner Brothers Television.

As an actor, John played Christina Applegate's brother on NBC's "Jesse" and hosted ABC's reality show "I'm a Celebrity...Get Me Out of Here." Other TV credits include "Oliver Beene" (FOX) "Once & Again" (ABC), "Friends" (NBC) and others. John's film credits include "The Sweetest Thing", "Kicking and Screaming", "Mr. Jealousy", "Highball" and others. John is a critically acclaimed improvisational performer having worked at the Organic Theater and Steppenwolf Theater in Chicago, The Montreal Comedy Festival, Chicago Improvisational Festival and multiple venues in Los Angeles and New York. In 2003, John starred in and Associate Produced "Memron"-- an entirely improvised film that won the audience choice award at the 2003 Slamdance Film Festival. Currently John is starring and executive producing '10 Items or Less' - a half-hour Sony pilot for TBS.

John currently lives in Los Angeles California with his wife Jennifer and his seven month old daughter, Jules. [»] Click here to read more.
NINA ROSENBLUM, Oscar-nominated, award-winning documentary film producer, director & writer



NINA ROSENBLUM is an Oscar-nominated, award-winning producer, director & writer of documentaries, shorts and segments. President of DAEDALUS PRODUCTIONS, INC., Nina has produced and directed for TBS, HBO, PBS, NY TIMES Television, SHOWTIME, ABC, NBC. Her co-production partners include Channel Four/UK; WDR/Germany; La Sept, France and SBS/Australia. She is a member of the Directors' Guild of America (Director), the Academy of Motion Picture Arts and Sciences, Women in Film, the Independent Feature Project and the International Documentary Association.

In fall 2000, Ms. Rosenblum produced and directed a Showtime/ NYT Television documentary, THE SKIN I'M IN, about the music of Jimi Hendrix and Sly and the Family Stone. In 1992, Ms. Rosenblum was nominated for an Oscar for her Denzel Washington and Louis Gossett, Jr. narrated PBS documentary, LIBERATORS: FIGHTING ON TWO FRONTS IN WORLD WAR II. This effort was followed by an Emmy Award in 1994 for the acclaimed TBS program, THE UNTOLD WEST: THE BLACK WEST, narrated by Danny Glover, which interwove documentary with dramatic segments.

These documentary achievements added to the acclaimed, Sundance Special Jury Prize-winning, AMERICA & LEWIS HINE, PBS, 1984 and Rosenblum's 1990 Susan Sarandon narrated feature documentary, THROUGH THE WIRE, PBS/POV, a graphic investigation of small group isolation and America's female political prisoners. Her 1992 feature documentary LOCK-UP: THE PRISONERS OF RIKERS ISLAND, produced for HBO's AMERICA UNDERCOVER series, further solidified Rosenblum and Daedalus Productions as major producers on the non-fiction scene. Her credits also include SLAVESHIP: THE TESTIMONY OF THE HENRIETTA MARIE, 1995, and A HISTORY OF WOMEN PHOTOGRAPHERS, 1997, shorts included in traveling exhibitions across the United States.

In 1999 Rosenblum produced and directed WALTER ROSENBLUM: IN SEARCH OF PITT STREET, a feature documentary chronicling the photographic career of her father, Walter Rosenblum, a highly decorated US Army Signal Corps cameraman who documented the D-Day landing on Omaha Beach and the liberation of the concentration camp at Dachau. WALTER ROSENBLUM: IN SEARCH OF PITT STREET premiered at the D-Day Museum and has been invited to numerous film festivals both here and abroad, winning numerous awards. Currently, Ms. Rosenblum completed UNINTENDED CONSEQUENCES, a film about the "Mothers of the NY Disappeared" who are protesting the Rockefeller Mandatory Minimum Drug Laws, and CODE YELLOW: HOSPITAL AT GROUND ZERO, about the emergency response of NYU Downtown Hospital on 9/11. She is now producing ZAHIRA, LA QUE FLORECE, about the Madrid train bombing, and an homage to her films and a retrospective will be featured at Documenta, 2005 in Madrid.

[»] Click here to read more.
FREDERIC YONNET, Harmonicist



When it comes to the harmonica, French-born harmonicist Frédéric Yonnet knows how to turn skeptics into believers. Most people perceive the harmonica as a "side" instrument used in country and blues. However, Yonnet is one of a handful of musicians to successfully demonstrate the harmonica's versatility as a lead instrument in contemporary jazz, as well as other genres of music.

Just listen to his sound. It funks. It rocks. It hips and hops. It grooves. It sways. It testifies. It prays. It has a reverence for blues and jazz while appealing to a generation raised on pop, rock and hip-hop. The attention and praise he has garnered from such popular generational icons as Stevie Wonder and Dave Chappelle as well as performances with Erykah Badu, John Legend, India.Arie and Joe McIntyre has helped to expose him and his unique sound on the harmonica to a wide and diverse audience.

Born in Normandy, France, Yonnet picked up the harmonica after a short stint as a drummer.

In France, Yonnet devoted all of his time to performing in Parisian jazz and blues clubs. Yonnet was a frequent guest musician on "Nulle Part Ailleurs", a show on the French television network Canal +, and he eventually began touring Spain, Germany and Africa with jazz, rock and country bands. During a visit to the U.S., Yonnet jammed at a club and he was totally blown away by the reaction he received from the audience.

Yonnet's latest CD project positions the artist where he and his music deservingly need to be -- Front and Center. The harmonica takes the lead when Yonnet brings it out front and demonstrates its versatility and range.

His high energy and ability to play chromatic scales on the diatonic harmonica gives Frederic Yonnet an unlimited range of notes and sounds, of which he takes full advantage. He demonstrates his command of technique and skill by masterfully bridging the gap between the diatonic and chromatic harps -- impressing fans of both. [»] Click here to read more.
DAN ZANES, Singer, Songwriter and Recording Artist



Dan Zanes was born in Exeter, New Hampshire, in 1961, and spent time being a kid, first, in Texas and then in Fredericton, New Brunswick, where he can still remember enjoying ice hockey and Gordon Lightfoot.

He picked up the guitar when he was eight and began taking Leadbelly records out of the public library as soon as he was old enough to get a library card. "But it was not until one night in junior high school while babysitting at a house that had some old Chuck Berry records that he fell in love with rock and roll". He was soon in a rock and roll band, and later won a scholarship to Phillips Academy, in Andover, Massachusetts.

In 1981, Dan went off to Oberlin College in Ohio, where his number one goal was to start a really cool band. In the breakfast line on the very first day at Oberlin, he met Tom Lloyd. Zanes and Lloyd took their breakfast back to the dorm and right then and there started a band and soon left school and headed to Boston ("It was between Boston and Austin," according to Zanes), where they became known as The Del Fuegos. The Del Fuegos played in lofts, bars, small art galleries, clubs, barns, college dining halls, fraternity houses, gymnasiums, auditoriums, and, finally, big theaters.

Rolling Stone named The Del Fuegos "Best New Band" in 1984. Once, Bruce Springsteen jumped on stage to play "Hang on Sloopy" with them. As a Del Fuego, Zanes made several records-The Longest Day (1984), Boston, Mass (1985), Stand Up (1987), Smoking in the Fields (1989)-and had a hit single, Don't Run Wild. In 1987, Zanes married Paula Greif, the director of the video for The Del Fuegos song, "I Still Want You."

In 1991, after The Del Fuegos had broken up, Zanes and his wife moved to Cornwallville, N.Y. in the Catskills. There, Zanes grew chard, chopped firewood, and listened to a lot of gospel groups from the forties and fifties, and learned how to record music on his own and made a solo album called Cool Down Time.

When he and his wife, Paula, had a baby, they all moved back to New York City. Dan subsequently began playing music with a bunch of fathers that he had run into on West Village playgrounds while they were all playing with and/or standing around and watching their kids. The fathers playing music together eventually became The Wonderland String Band, which played at parks and parties and on a tape of songs that Zanes started to record at home.

The tape was a hit locally-i.e. on the playgrounds where he and his daughter played-and Zanes realized that he liked making music that families could enjoy together, as opposed to music that is just for kids or just for adults. So, he began making a full-fledged homemade CD, enlisting the help of some people he'd met when he was a Del Fuego - Sheryl Crow, Suzanne Vega, and Simon Kirke, the drummer for Bad Company, for instance.

The Dan Zanes story had a lot to do with a rock and roller who started a label for family music, brought funny guests into the mix, sold a lot of records, and toured the country with his spirited and soulful band. Now the story has evolved as the music has evolved. In the process of digging up old songs for the family music CDs (while writing many new ones it should be said) Dan has rediscovered the traditional music that was so inspirational to him when he was growing up. It's being turned on its head and brought into the new century as he and his musical comrades take the songs from the past and sing and dance them into the musical future as a shared experience for people of all ages.

[»] Click here to read more.
By the time Susan Blech was 38 years old, she weighed a staggering 468.1 pounds. She binged. She was "only a little chubby," or so she convinced herself.
Gripping, sometimes shocking, and ultimately inspiring, Confessions of a Carb Queen is the story of how Susan changed her life to save her life, ultimately losing 250 pounds without surgery.
Susan speaks candidly about eating binges, fat sex, and other topics no obese person has dared to address as she recounts her transformation from vulnerable woman to one charged with willpower and courage.
Susan Blech gives motivational talks on weight loss. She has been featured in the New York Times, People, Women's World, First for Women, and has appeared on Good Morning America and Weekend Today.
Susan is a Senior Care Coordinator at Brookdale Hospital's childhood obesity program in Brooklyn, New York, and lives with her husband in New York City.
[»] Click here to read more.
MICHAEL MCELROY, Tony and Grammy Award nominated Actor/Singer



Michael came to New York City in May of 1990, after finishing his BFA in Theater from Carnegie Mellon University. His Broadway credits include Big River, The Wild Party, Rent, The Who's Tommy, Miss Saigon, Patti Lupone on Broadway, Hair and The High Rollers Social Pleasure Club. National Tour: Sarafina. Off Broadway: NY Shakespeare Festival's Richard III with Denzel Washington, Violet (Playwright's Horizons: Drama Desk Nomination), Thunder Knocking on the Door, Minetta Reperatory Theater and Blue, Grammercy Theater. Regional credits include Angels in America Pts I and II, Alley Theater; Fences, Riverside Theater; Dreamgirls, Pittsburgh Playhouse; Thunder Knocking on the Door, Trinity Reperatory Theater. He was also a featured vocalist on "The Rosie O'Donnell Show." Michael is featured on CD recordings of The Who's Tommy, Blue, Violet, Thunder Knocking on the Door and Leslie Uggams' upcoming CD project. He founded the Broadway Gospel Choir in 1994, then founded the Broadway Inspirational Voices in 1999.

[»] Click here to read more.
SARAH JONES, Tony Award Winning Playwright, Actor and Poet



Sarah Jones is a Tony Award® winning playwright, actor, and poet. Her multi-character solo shows include Bridge & Tunnel, which was originally produced Off-Broadway by Oscar-winner Meryl Streep, and went on to become a critically acclaimed, long running smash-hit on Broadway.

Jones' career has taken her from a sold-out run at The Kennedy Center to tours of India, Europe and South Africa to performances for such audiences as the United Nations, members of the U.S. Congress and the Supreme Court of Nepal. Her multicultural cast of characters has always been a reflection of her diverse audiences.

A proud Queens, New York native, Sarah attended the United Nations International School and Bryn Mawr College where she was the recipient of the Mellon Minority Fellowship, then returned to New York and began writing and competing in poetry slams at the Nuyorican Poets Café. There she developed her first show, Surface Transit, which was presented at The American Place Theatre and PS122. Her next piece, Women Can't Wait! was commissioned by Equality Now to address the human rights of women and girls. A subsequent commission by the National Immigration Forum yielded Waking the American Dream, the inspiration for Bridge & Tunnel. Most recently, Jones has been commissioned by the WK Kellogg Foundation for a piece entitled A Right to Care, which tackles themes of inequality in health.

Jones has also received grants and commissions from Lincoln Center Theater, The Ford Foundation, and theater honors including an Obie, a Helen Hayes Award, two Drama Desk nominations, HBO's US Comedy Arts Festival's Best One Person Show Award, and an NYCLU Calloway Award in recognition of Jones as the first artist in history to sue the Federal Communications Commission for censorship. The lawsuit resulted in reversal of the censorship ruling, which had targeted her hip-hop poem recording, "Your Revolution." A regular uncensored guest on public radio, she has also made numerous TV appearances on HBO, NBC, ABC, CBS, PBS, CNN, and in her own special, "The Sarah Jones Show," on Bravo. Jones lives in New York with her creative partner and husband Steve Colman.

[»] Click here to read the interview with Sarah Jones.
SHARON HYLAND KEYSER, A Heroes Welcome Founder



Sharon Hyland Keyser is a Blue Star Wife whose husband is currently serving with the US Army's 173rd Airborne in Afghanistan. For five years, Hyland Keyser worked as a sales executive and sales manager, proving herself a driving force in the construction/facility operations industry in Philadelphia.

While she succeeded professionally, she did not feel successful personally. Her opportunity for personal fulfillment came when attending her hometown's 4th of July parade in 2007.

As Hyland Keyser watched our United States World War II Veterans marching proudly through the parade, she noticed the grave difference in the faces of our Vietnam Veterans that marched behind them. She knew that our United States Vietnam Veterans were not respected when they arrived home from their unpopular war and worried our current troops would face the same reception and, eventually, the same post-war conditions.

One month after the parade, Hyland Keyser walked away from her well paying job and invested her life savings into a program she titled, "A Hero's Welcome." A Hero's Welcome is dedicated to welcoming home from war our United States Service Members in a manner befitting an American hero. By establishing relationships with local businesses, schools, Veteran groups and other supportive organizations, Hyland Keyser has played a large role in changing how troops in the Philadelphia area are honored for their service.

[»] Click here to read the interview with Sharon.
FIONA BLOOM , International Marketer, World Citizen, Connector, Producer





This is how the story goes...

A beautiful little girl with big blue eyes hailing from London, England dreams of becoming a concert pianist at the age of 5. After years of prodigious finger duets with the ivory keys she was accepted into the highly reputable Royal Academy of Music in London. From there her triple thirds, trills and thundering technique garnered two full prestigious scholarships; one at the University of the Arts in Philadelphia and the other at the University of Maryland. She also received a distinguished Steinway Piano award. While pursuing studies of classical music she was soon attracted to the sounds of two turntables and a microphone. Hip-Hop music had bounced into the room and Fiona was all ears. Soon Hip-Hop had this London gal down in Atlanta where she became a wildly popular radio personality and party host on WSTR 94.1 and WRFG 89.3 FM. It was at these two stations where Fiona got her schooling in this vibrant music culture interviewing the likes of George Clinton, Wu-Tang Clan, Chuck D, The Pharcyde and RuPaul to name a few. During this time, Fiona completed her Bachelor of Arts degree in Speech Communications and Broadcast Journalism at Georgia State University while honing her sultry voiceover skills.

It was also at this time that she was on the inside track of the burgeoning Atlanta Hip-hop music scene hanging around the likes of Outkast, Goodie Mob, Arrested Development, Dallas Austin, Joi & others, whilst working as a club promoter. It was 1994 when a call from then-EMI Records head Daniel Glass brought Fiona to the big city as a Director of New Artist Marketing. Here she worked with artists, Gangstarr, Soulsonics, Shara Nelson, Arrested Development and Digable Planets. After a brief stint at EMI, she continued to enrich her musical palette and took a job at an upstart record label called Zero Hour Records where she was the Director of Media Relations. She worked with such artists as Varnaline, Space Needle, Swervedriver, Steve Wynn, John Wesley Harding and Notwist. After achieving critical acclaim for her artists and label, Fiona's savvy entrepreneurial skills convinced her boss to allow her to start her own Hip-Hop label as a subsidiary of Zero Hour called 3-2-1. Here she was recognized for signing the critically acclaimed Hip-Hop group Blackalicious, in addition to other notable underground hip-hop acts such as; Connected, Skeme Team, Rubberoom, Scienz' of Life, Micranots and Big Jus of Company Flow. If running a fledgling indie Hip-Hop label wasn't enough, Fiona's constant drive led her to pursue independent publicity for such artists as Bahamadia, Mystic, Jigmastas, Jeru tha Damaja, Shabaam Sahdeeq, Spontaneous and others. For everything that has a season, Zero Hour expired and 3-2-1...counted down, but Fiona stayed up and blossomed into co-creating Sub Verse Music. A Hip-Hop troika between her, Big Jus and Wall Street maverick, Peter M. Lupoff. Sub Verse Music quickly became an established and reputable indie Hip-Hop label featuring such acts as Micranots, MF DOOM, KMD, Rubberoom, Big Jus (Company Flow), Hemisphere, Source of Labor, C Rayz Walz, and Scienz' of Life. In addition, Fiona also created Subversive Skool, a critically acclaimed music showcase for emerging new artists on the underground Hip-Hop scene.

Since then, Fiona has been honing her skills and cultivating relationships world-wide in International business making introductions, initiating licensing and distribution deals, booking festivals and European tours as well as giving endless advice/consultation on being savvy and knowledgeable in 'International business' to boutique and independent companies such as Rawkus, Game, GoodVibe, Rhymesayers, Lyricist Lounge, Recon, Bomb Hip Hop, Frank 151, Brash Music, Babygrande, Purpose Records, Burning Heart, AllCity, and others.

In addition, she became a talent buyer for the acclaimed NY venue Joe's Pub/Public Theater from 2004-2005. She created a platform for International artists to showcase their artistic merits and NY debuts from around the world.

Most recently, Fiona accepted a position heading up the International department at TVT Records in NY where she managed the International affairs for Ying Yang Twins, Pitbull, Teedra Moses, Towers of London, The Blue Van, Ambulance and others. After a year, she has decided to go back out on her own. The Bloom is in Effect. Once an entrepreneur, always one.

[»] Click here to read the interview with Fiona Bloom.
DAVID GRAND, Film Maker and Psychotherapist



Dr. Grand is a psychotherapist, writer, lecturer, performance coach and humanitarian famous for the discovery and development of the internationally acclaimed Brainspotting method which brings about life-changing breakthroughs at "Warp Speed".??
A Licensed Clinical Social Worker with a PhD from International University, David Grand is renowned for his groundbreaking discoveries and advancements in the arenas of healing trauma and enhancing performance and creativity.
With a roster of clients that include many successful television, film and stage actors, professional athletes, business leaders, and survivors of profound traumas (including 9/11,Katrina and Iraq/Afghanistan combat veterans), Dr. Grand is a sought after lecturer, performance coach and public speaker.
Dr. Grand is currently producing a reality show pilot called "Trauma Doc" in which he travels on location with trauma survivors and heals them at the site where the event took place; a documentary about his experiences treating victims of Hurricane Katrina called "Come Hell or High Water" and producing a play called "I Witness" based on his personal stories of from September 11th related trauma.
Dr. Grand maintains a private psychotherapy and performance enhancement practice in Manhattan and Long Island, New York.
[»] Click here to read the interview with David.
KAREN SAILLANT, Founder and Director of the International Opera Company



Dramatic soprano Karen Saillant has received standing ovations in international opera houses. She began her study with Carl Stough in 1972. Now in her fortieth year as a teacher of singing, she is the Artistic Director of International Opera Theater, a project that presents world premiere Italian operatic adaptions of Shakespeare texts every summer in Citta' della Pieve, which is on the border of Umbria and Tuscany in Italy.
Karen has starred in opera houses in Europe and the US where she has received standing ovations and rave reviews for her artistry. In 2007 she was commissioned by The Smithsonian Institute in Washington, The Museum of Modern Art in New York and The Philadelphia Museum of Art to create new works of theater and music to highlight their collections, in 2007 The Philadelphia Orchestra commissioned her to create and direct a new theatrical representation of The Pulcinella Suite by Igor Stravinsky for their family concert series in celebration of the 150th anniversary of The Academy of Music in Philadelphia.
She attended Indiana University and received her Bachelor of Music Degree from Temple University. She currently lives in Philadelphia with her two sons.
[»] Click here to read the interview with Karen Saillant.
JAMIE HECTOR, HBO series THE WIRE's Marlo Stanfield



Jamie Hector has established a tremendous fan base due to his portrayal of Marlo Stanfield on the critically acclaimed, HBO series, THE WIRE.

Jamie enrolled in college while he continued to audition and book roles on NY Undercover, Third Watch, Law & Order, Law & Order SVU, The Beat, and Oz. Jamie's film work dates back to Spike Lee's "Clockers". From there he went on to appear in "He Got Game", Ghost Dog", "Prison Song", "Everyday People" and "Paid In Full". Jamie's film work was highlighted when the short film "five deep breaths", directed by Seith Mann, featured Jamie in the lead role of Banny. This film was an Official Selection of the Cannes, Sundance, Tribeca and The IFP Film Festivals and went on to accumulate 14 awards.

After graduating from college Jamie enrolled in The Lee Strasburg Theater Institute, and studied there for several years. What is so appealing about Jamie is more than just his enormous talent, it is his sincere humanity and his modesty. The general consensus is that Jamie Hector is a dynamic person with tremendous talent who works hard to create the best possible results.

[»] Click here to read the interview with Jamie Hector.
DASHAUN "JIWE" MORRIS, Author and Advocate



Author of War of the Bloods in my Veins: A Street Soldiers March to Redemption, Dashaun "Jiwe" Morris was known on the streets as Machete from Newark, NJ. He is a reformed member of the Bloods, and a full-time gang consultant. He seeks to end the cycle of gang violence through Juvenile Intervention work. A sought-after lecturer, Jiwe speaks throughout the United States as a spokesperson for The Stay Strong Foundation sharing his unique experiences and the horrible truth about living a gang lifestyle with kids and parents in an effort to inspire them to make better life decisions. [»] Click here to read more.
Joan Baker, author of Secrets of Voice-Over Success, has performed hundreds of promos and commercials for TV, film and radio throughout her highly regarded career. ABC News, American Express, Other clients include: King World, ESPN, BLOOMBERG TV and radio, SHOWTIME, HBO, NBA Entertainment, COURT TV, Imus in the Morning, Olay, Lens Express, Sony Music, JP Morgan Chase, American Express, Costco, and The New York Times Classified represents just a few of the numerous clients who regularly call upon her unique sound. You could even say that Joan's talents reach the highest levels of American royalty and deep into the political power structure: She voiced a TV ad campaign for The Muhammad Ali Center and narrated a documentary about the founding of the William Jefferson Clinton Library, now a part of the library's permanent display. And Joan also has it going on live! She provided the live voice announcements for the "Museum of the Moving Image Salutes Will Smith" which aired on Bravo TV.
Prior to authoring Secrets Of Voice-Over Success Joan built a lucrative following among people (actors & corporate executives) seeking training in the art of voice-over acting. Nancy Grace and the late Johnnie Cochran are counted among her high profile students. Today she travels the country as a lecturer and seminar leader through a variety of arts institutions. She's the creator of the powerful "Make Millions With Your Voice" seminars through the Learning Annex.
She has been featured in numerous publications and TV segments: Interview Magazine, Adweek, Backstage, The NY Post, Media Week, Broadcasting & Cable, Cable World, NY Daily News, Radio World and Black Enterprise. Also on television's Weekend Vibe, SHOWBIZ Today on CNN, Fox 5 NY, ABC News Now and E! News. She is represented exclusively by Innovative Artists.
In honor of her late father, James P. Baker, who past away from complications of Alzheimer's disease, Joan contributes all royalties from the sales of Secrets of Voice-Over Success to the Alzheimer's Association of which she has become a steady patron and advocate for a cure.
Joan Baker also runs an award winning ad agency called Push Creative along with her husband, Rudy Gaskins.
[»] Click here to read the interview with Joan Baker.
GUSSIE ROC, National Scholastic Art and Writing Gold Medal Recipient, Internet Publisher and 8th grader



Gussie Roc is the publisher of the weekly ezine, The Gussie Gazzette, a publication which promotes social responsibility and celebrates cultural endeavors.
Gussie is an accomplished writer, poet and viola player. She is also active in her community. She volunteers with Ubuntu Education Fund and Saint Charles Jubilee Senior Center.
Gussie lives in New York City with her mom, her dad, her dog and her cat.
[»] Click here to read the interview with Gussie Roc.
MICHELE PIERCE BURNS Educator, Advocate for Autistic Children and Mom



Michele Pierce Burns is a consultant, fundraiser, writer, and public speaker focusing on autism awareness and acceptance. She works part-time for Celebrate the Children, a State-Approved School for Children with Alternative Learning Styles in Wharton, NJ. She is the proud mother of Danson Mandela Wambua, age 9, and has recently co- written a book with him entitled DANSON: The Extraordinary Discovery of an Autistic Child's Innermost Thoughts and Feelings (St. Lynn's Press, April 2009). Michele is currently collaborating with Illustrator Louis Henry Mitchell (Senior Character Designer and Creative Director at Sesame Workshop) on a second book for Danson entitled I Love Everything About You which affirms the belief that every child with autism is a perfect blessing exactly as he or she is (St. Lynn's Press, Spring 2009).

Michele and Danson have been featured on OPRAH, The Today Show, Larry King Live, and in the documentary Autism Every Day which premiered at the Sundance Film Festival in 2007. Michele volunteers and consults at: Sesame Workshop Healthy Habits for Life and Autism Awareness Project, as a member of the family services committee at Autism Speaks, HALO (Helping Autism through Learning and Outreach), Seeds of Hope Outreach in Southern Africa (dedicated to bringing services and hope to orphans due to AIDS), and at Connor's House, a home-like community for family-centered care for children with complex health needs.

Previously, Michele was a high school English teacher and co-founded two college preparatory-based charter schools and a summer academy. She holds a B.A. from Wesleyan University (English/Afro-American Studies), a M.A. from Stanford University (Education), and a M.Ed. from Harvard University (Administration, Planning, and Social Policy).She is a certified Yoga and Yoga for the Special Child teacher and a Reiki Master. She is so grateful to share her daily life with Danson and her beautiful husband Michael.

[»] Click here to read more.
KATYA GRINEVA, Russian born, Award Winning Classical Pianist



When the teenage Russian pianist, Katya Grineva, came to New York in 1989, she had two goals: to study in America and one day, to play in Carnegie Hall. Katya Grineva made her American debut in 1993 performing the Mozart Piano Concerto No. 27 in B-Flat, k. 595 with the Baltimore Symphony. Katya made her Carnegie Hall debut on May 13, 1998 and completed her 7th season at the world famous hall on May 12, 2005.

Since April 1998 Steinway and Sons has awarded Katya the honorable title of Steinway Artist. Her other awards include: a special award from the New York State Shields in 2003 and, most recently, an award for special achievements from the government of Guam.

Living most of her adult life in NY, she acquired a reputation as a pianist of exceptional romantic/poetic expression. Commentators agree that Katya achieves her impact at the piano more through subtlety rather than by force. Above all, she values the beauty of tone. She stresses a suppleness and a natural approach to the keyboard. Her interpretation and mastery of the piano can be summed up by the following: ' with Katya you sink into the sweet abyss of the music...'

Ms. Grineva has made a specialty of the romantic piano music and recorded three CD's: From Katya with Love, Katya From the Heart and Katya . . . Inspiration Bleu.

[»] Click here to read more.
HAMID JOHANNES MAHMOOD, Designer, Entrepreneur and Philanthropist



Hamid Johannes Mahmood started his clothing line, Operations, in 2004, along with lifelong friends Matteo Gittardi, Michael Leen. Fascinated by the bright colors, durable fabrics, and pocket details of the work wear they saw at construction sites while travelling Europe, they returned to the United States and began importing the work wear and selling it in New York City. Over time, they decided to pool their creative resources and design their own clothes, drawing inspiration from work wear but adapting the designs to the needs of modern city life. They created more tailored silhouettes, using finer fabrics to create a full line of work-inspired fashion for both men and women. Their flagship store is located at 60 Mercer Street in New York's SoHo district.
Hamid Johannes Mahmood was born in Queens, New York and spent his formative years in suburban New Jersey as one of five children, three brothers and two sisters. His mother is Indonesian and Dutch of South African descent and his father is Indian, born in India and raised in Pakistan.
He attended Pennsylvania State University studying business and communications. Growing up with a test cricketer for a father is enough to encourage any young boy to pursue athletics. When your father is known as the first man from Pakistan to take all ten wickets in a first class innings and your childhood home is filled with his trophies, you pursue athletics aggressively.
"My mother was a strong influence on me as a child," says Mahmood. "She was an avid practitioner of yoga throughout my childhood and she encouraged me to 'eat my vegetables'."
Earlier this year Operations opened a second retail location in the Meatpacking District of New York City. The three partners divide their time between the two locations.
[»] Click here to read the interview with Hamid Johannes Mahmood.
GAI DEPINA, Artist





"As far back as i can remember I've always enjoyed drawing, doodling, and creating images for myself, family and friends. As I got older I saw how my work evolved and with the coaxing of friends decided to be more serious about actually showing it to a broader audience. I have no formal training in any technique or style. Through inspiration, that comes from all around me, I simply express what I see and feel using whichever medium feels right to me. I'd prefer not to say too much about who I am and rather allow you to have a more unbiased opinion of my work."
Gai is from Holland and currently lives in Brooklyn New York.
[»] Click here to read the interview with Gai DePina.
CRYSTAL EMERY, Documentary Film Maker



Crystal Renée Emery has more than 30 years professional experience in the entertainment industry, having produced, written, directed and worked on productions throughout the United States and Europe. She polished her craft under the tutelage of industry giant Bill Duke ("A Rage in Harlem") and is one of a select group of young directors to work extensively with directing icon Lloyd Richards ("Piano Lesson"). She has worked in major regional theaters such as Chicago's Goodman Theatre, D.C.'s Kennedy Center, Los Angeles's Dolittle Theatre and New Haven's (Connecticut) Long Wharf Theatre. She holds a BFA from the University of Connecticut, attended NYU film school and completed intensive cinematography classes with Brianne Murphy at UCLA.
As executive director of Upper Room Unlimited, Inc. ("URU"), Crystal helmed a thriving non-profit organization that utilized the arts to foster communication and understanding among diverse racial, social and economic groups about issues that affect urban communities. URU's focus included race relations, HIV, breast cancer education, disability rights and world ecology. In 1999, she developed an URU program series entitled "This Is Where I Live, Don't Dump On Me," designed to inspire environmental responsibility and cultivate problem-solving skills among inner city children; throughout it's implementation the series reached more than 5,000 children in 28 urban schools and community centers throughout Connecticut.
Through URU Crystal produced the "Sankofa Cultural Art Festival-2000," which brought together nationally renowned Native American, Latino and African-American artists from across the U.S. to celebrate "The Right To Be." In 2001 Crystal and URU launched "Woman to Woman: Helping Ourselves," an innovative and highly successful nationwide series of conferences focused on breast health education, outreach and mammography screening that targeted under-served women in urban communities. Woman to Woman developed unique partnerships among health institutions, medical professionals, municipal and state governments, and community and civic organizations to reach unprecedented numbers of women within population groups that the medical profession recognizes are difficult to involve in preventive health maintenance.
Most recently, Crystal developed and implemented intensive writing workshops for elementary students entitled "The Writer's Lunch." Her ongoing "Little Man" Literacy Series is aimed at urban elementary students with the idea that all children can benefit from reading about the urban experiences of her characters. Her first children's book, "Little Man's Fourth Grade Journey" is currently part of the curriculum in several school districts. Her latest published work (August 2006), "Little Man Loses His Tooth", has been well received in educational districts spanning the United States.
Crystal just completed the independent documentary The Deadliest Disease in America a poignant look at racism in healthcare. She is currently shooting Jibarro, My Country My Home, a look at Puerto Rican hill music and the resurgence of it in America.
Crystal remains undaunted by the many challenges of living with muscular dystrophy, continuing to shape a successful personal and professional life. She is a student at The New School of Learning, a division of the S.E.L.F. - Help Foundation, Inc. in New Rochelle, New York and attributes her breakthrough as a writer to her participation in the classes taught by Madeleine Peters.
[»] Click here to read the interview with Crystal.
EDWARD VILGA, Artist, Writer, Director


Edward Vilga is a writer, director and visual artist.
He has had five books published,written and directed two feature films, and created acclaimed theater.
His first gallery solo show will be this September.
Vilga is a Yale graduate.
He lives in Chinatown, NYC with his chocolate lab Belle.
[»] Click here to read the interview with Edward.
CHARLES MATTOCKS, Talk Show Host and Chef, Charles Mattocks



At the age of 16, Charles saw LL Cool J performing in a video on TV and committed himself at that moment to pursue a career in music. Taking a part time job in order to make enough money to buy a car, he learned where the rapper lived and drove to his home unannounced. This act of bravado impressed the superstar and soon he had taken the young Charles under his wing and the two ended up performing together on albums and videos. Charles' rapping skills caught the eye of famed Tommy Boy label, home of the hit group Naughty By Nature, where he released a single called "Check the Game."
Charles found many doors opening, including those in the acting world. On his second audition he landed a part in the hip-hop themed film "Fly By Night." He quickly earned his next role in the made for television movie "Daybreak" which starred Cuba Gooding Jr. and Omar Epps. His first starring role came in the Hallmark Hall of Fame movie "The Summer of Ben Tyler", working opposite James Woods and Elizabeth McGovern. The film was nominated for a string of critics awards and prompted the New York Times to say that the role of Ben Tyler was "...played to endearing perfection by Mr. Mattocks".
Charles moved to Los Angeles to pursue his career and quickly landed a starring role in "The Journey: Absolution".
When asked by his son, why there didn't seem to be any "real" people on cooking shows, a light went off and Charles set about creating a program that appealed to the vast majority of Americans that neither have the time nor means to create the types of menu ideas offered by the current crop of cooking shows.
The result is "The Poor Chef," a unique cooking show based on the premise of creating tasty, creative and nutritious meals for two while spending less that $7.00. Soon local television stations began calling him for guest spots to show audiences how best to create inexpensive menu items, which has led to his current position as the host of a weekly cooking segment based on the "Poor Chef" format, as seen on the morning show "Daytime," which is syndicated to eight, NBC affiliates throughout the Southeast.
Charles has struck a chord with audiences wherever he appears and looks forward to the day when "The Poor Chef" takes viewers into homes from Beverly Hills to Brooklyn to enlighten, educate and entertain.
[»] Click here to read more.
TAYLOR MORK, Sustainable Living Promoter, Entrepreneur,



Taylor is head of C2C's New York office, and focuses on programming for retailers and consumers, as well as global supply chain (seeking out new coffee origins for C2C!).
Originally from Southern California, Taylor has lived and worked in New York City, London, UK and two towns in Uganda.
Taylor holds a B.A. in International Sustainable Development from the Gallatin School of Individualized Study at New York University, and, before starting Crop to Cup, held client development positions in London and New York with Cal Safety Compliance Corp (CSCC) - an ethical supply chain consulting and auditing company. There, Taylor helped to build and manage ethical sourcing programs with respected brands and retailers in Europe and the US and also performed factory audits for human rights issues in Africa, Asia, Europe and North America.
Prior to working with CSCC, Taylor co-founded DevelopNet Iganga - a non-profit community center and Information and Communication Technology (ICT) resource hub that supports over 200 community-based and nongovernmental organisations in Iganga (Eastern Uganda).
[»] Click here to read the interview with Taylor Mork.
REGINA KULIK-SCULLY , Entrepreneur and Philanthropist





Founder & CEO, RPR Marketing Communications
Founder & President, CareerPeeks Foundation

A gifted entrepreneur, Regina is the founder and CEO of RPR Marketing Communications (RPR), a premiere public relations firm with top-notch clients from around the world. Her career began in journalism, with stints at such media outlets as Seventeen magazine, FOX Television, and CNN. She later segued into the public relations field, first working at the acclaimed Hill & Knowlton Agency and later serving as Public Relations Director for L'Oréal Cosmetics and Fragrances, and Christian Dior Perfumes.

Today, at the helm of RPR, which specializes in brand marketing and publicity for a wide range of consumer products and luxury goods, Regina primarily focuses on developing new business strategies and programs, and cultivating new talent within her Agency. Regina is an extraordinarily savvy businesswoman who has built RPR from the ground up and developed her company's client roster to include such major international brands as Johnson & Johnson, Spiegel, Neutrogena Corporation, Aveeno, Givenchy, Boucheron and Polo.com to name a few.

In addition to other numerous philanthropic efforts, in 2002, Regina founded CareerPeeks, a non profit organization that focuses on expanding career options for young women ages 20-38. The Foundation provides young women with opportunities to visit real working environments, and spend time in mentoring sessions with highly successful, dynamic professionals.

CareerPeeks mentors include: Katie Couric, Dr. Patricia Wexler-Noted Dermatologist, Debra Shriver-VP/Chief Communications Officer/Senior VP magazines for Hearst Corporation, Barbara Kotlikoff-Vice President of Development for The Museum of Television & Radio, Jill Scalemandre-Senior VP, Global Beauty Brands at Avon, Caroline Gundeck-Chief Diversity Officer Global Wealth Management at Morgan Stanley, and Tom Brokaw.

Regina is married to John H. Scully, managing director of SPO Partners & Company. He is a trustee and a vice chair of the board of trustees of Stanford University and vice chairman of Stanford Hospital and Clinics. In 1989 John became chairman and founder of Making Waves Education Programs in the San Francisco Bay area.

A natural leader with a big heart, Regina further tends to our youth by serving on the board of the Making Waves Education Program, Cosmetic Executive Women (CEW), the advisory board of the Stanford University School of Education, and The Girl Scouts of Greater New York. She is a trustee of The Horace Mann School in Riverdale, New York, is on the board of International Initiatives of Georgetown University, an advocate for mental health awareness, and is an advisory board member of The Stay Strong Foundation, a national non-profit that supports and educates youth.

[»] Click here to read the interview with Regina Kulik-Scully.
KEITH BOYKIN, Author, Political Strategist and Talk Show Host



Keith Boykin is the editor of The Daily Voice newspaper. He is a host of the BET television show My Two Cents, a New York Times best-selling author of three books, and a frequent political commentator on CNN and MSNBC.

Educated at Dartmouth and Harvard, Keith attended law school with U.S. Senator Barack Obama and served in the White House as a special assistant to President Bill Clinton.

Keith has been actively involved in progressive causes since he worked on his first congressional campaign while still a student in high school. He is a veteran of six political campaigns, including two presidential campaigns, and he was named one of the top instructors when he taught political science at American University in Washington.

Keith has traveled extensively across four continents, and in 1997 President Clinton appointed him, along with Coretta Scott King and Rev. Jesse Jackson, to the U.S. presidential trade delegation to Zimbabwe.

In 2004, Keith launched his media career as a star on the Showtime television series "American Candidate." Since then, he has appeared on Anderson Cooper 360, The O'Reilly Factor, The Tyra Banks Show, The Montel Williams Show, The Tom Joyner Morning Show, and on numerous other television and radio programs. He has been selected as one of The Advocate Magazine's 10 "people of the year" and as one of Instinct Magazine's 25 "leading men" of 2005. In 2004 and again in 2006, he was designated as one of Out Magazine's 100 most intriguing people.

A founder and first board president of the National Black Justice Coalition, Keith has spoken to audiences, large and small, all across the world. He delivered a landmark speech to 200,000 people at the Millennium March on Washington and he gave a stirring speech about the AIDS epidemic in front of 40,000 people in Chicago's Soldier Field in July 2006.

Each of Keith's three books has been nominated for a Lambda Literary Award, including his most recent book, Beyond the Down Low: Sex, Lies and Denial in Black America. Keith won the Lambda Literary Award for his second book, Respecting The Soul, while his first book, One More River to Cross, is taught in colleges and universities throughout the country.

Keith is an associate producer of the 2007 feature film Dirty Laundry and is working on his fourth book. Born and raised in St. Louis, Missouri, Keith currently lives in New York City.
[»] Click here to read more.
GLENN TUNSTULL, Internationally Acclaimed Painter



Glenn Tunstull was born in New York City in 1950, and has said that he "always knew he was going to be an artist." His early interest in drawing was supported by his family, while growing up in Detroit, where he and his family moved to in 1958. After concentrating in commercial art in high school, he studied at Parsons School of Design in New York for two years.

He left school to work for a number of pattern companies before creating fashion illustrations for Women's Wear Daily and Vogue Magazine. In 1977, Tunstull moved to Europe, and based in Paris and Milan, produced fashion illustrations for design houses including Hemes and Kenzo, and publications such as Marie Claire and Votre Beaute. Upon returing to New York in 1979, the artist worked for many editorial, retail, and beauty clients including The New York Times, Calvin Klein, Polo/Ralph Laurent, Bloomingdales, Neiman Marcus, Revlon, and Clairol. In 1997, Tunstull created illustrations for a children's book plublished by Smion and Schuster. He has taught at Parson School of Design, and Pratt Institute.

A period of global travel, beginning in 1996, would prove to be a turning point in Tunstull's artistic development. Starting with a trip to France, he would create off-the-cuff documentary watercolors that faithfully recorded the scenes he was experiencing. Subsequent visits to Jamaica, Brazil, Australia, Martha's Vineyard, and other locations would prove to be equally inspiring. Tunstull was particularly drawn to sites that combined water and sky, and the play of color. In 2000, he began painting in oil, creating expansive landscapes and seascapes based on close observation. As the work developed, a sense of abstraction emerged, while the desire to represent reality remained strongly present.

Tunstull has acknowledged the influence of a number of painters, including van Gogh, with his intensity of color. Hopper and his play of light on the landscape, Klimt, particularly his densely detailed scenes of nature. The latter's sense of all-over abstraction relates to a series of paintings that Tunstull developed while working in Brazil. These vibrantly colored abstractions composed of block-like pixels would provide the model for the artist's newest work. These abstracted beach scenes and landscapes present a sparkling vision of some of his favorite subjects, including the skies and waters of Martha's Vineyard and Bahia, Brazil.

Tunstull has exhibited his work in many solo exhibitions including those at the Picture That Gallery in Stamford, CT and the Cousin Rose Gallery in Martha's Vineyard. The artist's work is in numerous private collections. Since 2003, he has lived and worked in Claverack, NY.

[»] Click here to read more.
MARCUS JOHNSON, Acclaimed Jazz Artist and Entrepreneur



Throughout his 10-year career odyssey, jazz keyboardist, composer and producer Marcus Johnson continues to stand steady and unbowed.
Johnson's artistic journey with music reflects his entrepreneurial spirit, his maverick approach to composing and performing as well as his principled dedication to God, family and community.
His latest CD, "The Phoenix" (released July 2007) is aptly named as the work represents Johnson's struggle in building his brand within the music industry and his conviction to rise above the setbacks and disappointments. Widely lauded by jazz critics and aficionados alike, "The Phoenix" is his best work yet.
Johnson's previous five CDs have all peaked in the top 20 of Billboard's Contemporary Jazz charts for sales and predict that "The Phoenix" will surely rise and eclipse that mark.
Marcus Johnson has developed a reputation as a stellar showman, wowing audiences with his emotive displays of keyboard dexterity, while mixing his jazzy beats with R&B, go-go, Latin funk, a taste of salsa and a sip of hip hop. It's an unbridled genre that has allowed him to cultivate both mature smooth jazz fans as well as the younger urban-contemporary audiences.
Born in Ohio, Johnson was raised in Washington, D.C. and grew up sampling a cornucopia of musical styles. His mother was a classical pianist and his father purveyed the funk. After Johnson witnessed his first live show - Earth, Wind and Fire - with his father, his musical chariot was in motion. His step-father, using his winnings from a Maryland Pick-3 Lottery game, bought Johnson his first keyboard and the noodlin' began.
With private lessons from an aunt and direction from his high school music director, Johnson's keyboard fetish flared into a passion particularly knowing he couldn't sing nor rap.
The young mogul soon began studying both contemporary and traditional jazz and cites Thelonius Monk and Joe Sample as early influences through high school and his undergraduate studies at Howard University. While pursuing both a JD and MBA at Georgetown University, Johnson decided to independently produce and distribute his own album. The product, Lessons in Love (1997), went on to sell 40,000 units, a phenomenal success for an unknown artist's debut release. It also helped him launch his career as a jazz musician and chief executive of Marimelj Entertainment Group LLC (MEG).
During the next decade, Johnson would release more critically-acclaimed music: Inter Alia, Chocolate City Groovin', Coming Back Around, Urban Groove, In Person: Live@ Blues Alley; Just Doing What I Do, Smooth Jazz Christmas, and In Concert For a Cause.
He's shared the stage with many musical legends including Boney James, Kim Waters, Peabo Bryson, Diana Krall, Eryka Badu, Peter White, Miles Jaye, Rick Braun, Norman Brown, Chaka Khan, Arturo Sandoval, Chuck Magione, Marion Meadows, Rachelle Ferrell, Mike Phillips, George Duke and Jeffrey Osborne among others.
And he's played at many of the world's famous festivals and venues including The Capital Jazz Fest, Bermuda Jazz Fest, Atlantic Artscape, Huntington Beach Jazz Fest, The National Smooth Jazz Awards and the John F. Kennedy Center for the Performing Arts.
Noting Johnson's business savvy and musical ambition, Black Entertainment Television (BET) founder and businessman Robert L. Johnson (no relation) invested in MEG and became Marcus' business partner. Under this partnership, MEG's label Three Keys Music
- based in the Washington, D.C. metro area - established its own full-service recording studio, Studio 8121; and two music publishing companies, Marimelj Music Publishing and Three Keys Music Publishing.
[»] Click here to read more.
MARC SIMON, Sundance Film Festival Award winning movie producer



Marc H. Simon is an attorney and filmmaker, and has experience working in front of the camera as an actor and on-air correspondent. Simon is a graduate of the Benjamin N. Cardozo School of Law and is an alumnus of its Innocence Project, an experience which inspired the making of After Innocence. He is also an associate at the law firm of Dreier LLP in New York City. In addition he currently works as a legal correspondent and producer for Fox Television's A Current Affair. Marc has worked in film development and film production, and as an actor he appeared in the Spike Lee directed feature 25th Hour. He is currently developing a reality-based television series and two non-fiction films.

[»] Click here to read the interview with Marc.
DAVID TURNLEY, Pulitzer prize winning photojournalist and filmmaker



David Turnley is considered by many to be one of the best documentary photographers working today. He won the 1990 Pulitzer Prize for Photography, and has been a Pulitzer Prize finalist four times. In 1988 and 1991 he won the World Press Picture of the Year.

Turnley was a Detroit Free Press staff photographer from 1980 to 1998. He was based in South Africa from 1985 to 1987, where he documented the country under Apartheid rule. He was based in Paris from 1987 to 1997, covering such events as the Persian Gulf War, revolutions in Eastern Europe, student uprisings in China and the disintegration of the Soviet Union.

Turnley earned a B.A. in French Literature from the University of Michigan, received an Honorary Doctoral degree from the New School of Social Research in 1997, and has also studied at the Sorbonne in Paris. He studied under a Nieman Foundation Fellowship at Harvard in 1997-1998.

In 1998 David began working in video as well as still photography. He incorporated the two in a documentary The Dalai Lama: At Home in Exile (CNN), which was nominated for an Emmy. He has since had four pieces featuring a similar topic shown on ABC's Nightline. In 1999, he produced, directed, and photographed his first feature-length documentary, La Tropical, a sensual portrait of a wildly popular dance hall in Havana which has been central to the lives of working-class Cubans of color for more than half a century. La Tropical recently won Best Documentary in the Miami International Film Festival, and the film is currently being seen in festivals around the world.

Today he lives and works from New York City.

[»] Click here to read the interview with David.
Leigh Haber began her career in book publishing as a news aide for The Washington Post's Book World. After moving to NYC, she became a publicity director for Harcourt Brace and other publishers, but her first love was editing. Since becoming an editor nearly fifteen years ago, she has worked with such writers as Alice Walker, Gloria Naylor, Laurie Garrett, Steve Martin, Terry Gross, Peter Jennings, Lou Reed, Patricia Bosworth, and many others. Three years ago she joined Rodale, and is in the process of launching a book imprint for the company, called Modern Times. There, she has worked on books by Al Gore, Bill Maher, The Kitchen Sisters, Senator Chuck Schumer, to name a few. Next year, under the imprint, she will publish new books by Rosalynn Carter, William Greider, Mary Tillman, Philip Moffitt, and any investigative biography of Karl Rove, as well as the third in the bestselling Intellectual Devotional series, and a memoir entitled HARD TIME WITH PETER RABBIT..

She just turned fifty, and is the mother of two great sons, Sam and Geoff. She lives in Maplewood, NJ.

[»] Click here to read more.
RUDY GASKINS, Emmy Award Winning Journalist, CEO of Push Creative



Sure, Rudy Gaskins is the co-founder of Push Creative - but you gotta lead with the EMMY! Indeed, from his work as a director/producer, Rudy has one of the coveted statuettes prominently displayed on his coffee table right next to a copy of James Allen's As A Man Thinketh. Rudy has been working professionally for nearly 20 years. He gave it away for three years before that, but we won't go there. His experience covers film and TV, cable and broadcast, radio and theater. He is a seasoned DGA director, and an accomplished writer in the WGAE. Rudy's a strategic branding guru - he can crank out a bull's eye Brand Bible like nobody's business! It all comes from years of experience in the trenches, at PBS, ABC News, Court TV, NBC, and Food Network. Rudy was the key strategist behind BET's big redesign splash, where he worked with their extraordinary team to develop its mission statement, new logo, and on-air graphic identity. He lives by, and advocates the philosophy that collaboration achieves the highest levels of creativity, which means he has a hard time choosing a tie without asking his wife. Rudy oversees the day-to-day operations of Push Creative.

[»] Click here to read more.
GUY FORTT, Broadway Actor, Starring in The Color Purple



An outstanding actor who knows how to play the role, a firefighter with a passion for serving his community, and a colorful spirit blessed with limitless talents, Guy A. Fortt, the man, is one amazing character.

Guy, a seasoned theater presence who studied at Shaw University in Raleigh, NC, is currently featured on Broadway in Oprah Winfrey's The Color Purple. For years he has brought his unique flavor to an impressive variety of roles in New York City and Connecticut, commanding the stage in productions of Charles H. Fuller's A Soldier's Play, August Wilson's Seven Guitars, Abram Hill's On Strivers Row, and Tennessee Williams' A Streetcar Named Desire among others.

In Hollywood, Guy holds his own working alongside the film industry's best in such projects as director David Frankel's The Devil Wears Prada starring Meryl Streep; director Sydney Pollack's The Interpreter starring Nicole Kidman and Sean Penn; director Spike Lee's 25th Hour and She Hate Me; and Don't Nobody Love the Game More Than Me, directed by Martha Pinson and winner of the Toronto Online Film Award.

In addition to his stage and cinema work, Fortt has also found success in television having appeared on diverse shows including HBO's The Soprano's, NBC's Third Watch, Another World, and Saturday Night Live, ABC's All My Children, and MTV's Human Giant. He was also featured as "Pops" in Don Cheadle's Independent Lens, which aired on PBS.

Today, Guy is hard at work on several new projects. He recently completed filming of Before The Devil Knows You're Dead directed by Sidney Lumet, and starring Philip Seymore Hoffman and Ethan Hawk.

Guy A. Fortt lives in Connecticut with his wife, Dr. Tabitha B. Fortt and their four children, Jafar, 16; Khairi, 14; Anisa, 11; and Omar 9.

[»] Click here to read more.
BRETT WRIGHT, CEO and Co-Founder of NuAmerica



Entrepreneur
Co-Founder/Chief Executive Officer- NuAmerica Agency
Co-Founder/Chief Creative Officer-Uptown Magazine

Mr. Wright's creative talents, coupled with his keen business acuity, have earned him a reputation as a leader among his colleagues. His fifteen years of experience in the music, internet, publishing, advertising and fashion industries have established him as an innovator in delivering brands to urban culture. Mr. Wright is co-founder and CEO of the Harlem based NuAmerica Agency now in its 5th year.

NuAmerica Agency was founded to capture the true essence of urban/popular culture and provide a cultural context for companies wishing to communicate intelligently as well as relevantly to the hottest demographic and psycho graphic ever, the hip-hop generation.

Wright's experience with new enterprises has given him great insight into developing businesses from the ground up. He has become a specialist in establishing brands and creating innovate marketing and advertising vehicles. "Marketing is about vision, ideas and the critical process of execution. It is that task that we embark on with every advertising and marketing effort."

Wright's positions have included serving as an original member of The Source Magazine, senior director of marketing at Uptown Records, vice president of Loud Records, vice president/general manager of Volcano Entertainment and vice president of marketing and A&R at RCA Records, president of Yo! B. Consulting and president of Hookt.com. Under Wright's marketing vision these companies established their respective marks in their respective industries.

NAA is the first marketing, advertising and management firm designed to address and focus on the changing faces of urban culture. NuAmerica's clients include: Pepsi, Luster Products, Courvoisier, Rocawear, Apollo Theater, And-1, Uptown Magazine, Bulldog Bikes, Showtime Networks and Oster Products.

Wright has been a long time resident of Harlem where he lives with wife Yvonna Wright and children Lola and Marley.

[»] Click here to read more.
ED WOODS, Top Entertainment Attorney, Manager and Entrepreneur



Peers no longer call Ed Woods an "up-and-coming" attorney; no, Mr. Woods has unequivocally arrived as one of the top entertainment attorney lawyers and business leaders in the country.

Currently the Executive Vice President at Casablanca Records, Edward L. Woods, Esq. has been practicing law in New York City since 1994. With a primary focus on contractual deal making and negotiations on behalf of recording artists, records producers, songwriters, record industry executives, independent record labels and recording studios, Mr. Woods has established himself as a major force in the music and entertainment communities. Mr. Woods' ascendancy was reinforced by his recent election as President of the nationally renowned organization Black Entertainment and Sports Lawyers Association (BESLA), after serving the last five years on the board for the organization.

In September 2000, Edward L. Woods, Esq., co-founded the firm of Woods & Middleton, LLP. It was at Woods & Middleton that Mr. Woods' influence within the entertainment industry grew; within two years Mr. Woods was supervising over 75 clients based in recording, publishing, film and television industries, and negotiating multi-million dollar deals on a regular basis. Mr. Woods also developed an unequaled reputation for attracting new clients, understanding both the "big picture" and archaic nuances of industry deals, and for being a fair but hardball negotiator. The latter quality was a trait honed by Mr. Woods while growing up on the streets of Queens.

Ed Woods quickly developed a long client roster of platinum producers, recording artists, independent labels and Grammy award winning songwriters. These included: superstar multi-Platinum artist and actor DMX, Bad Boy Hitmen Producers, NBA superstar Allen Iverson, R&B divas Stephanie Mills, Angela Winbush and Kelly Price, Blackground Entertainment (Aaliyah's record label), FUBU, and legendary boxing promoter, Butch Lewis.

Having conquered the legal profession and seeking to expand an already vast knowledge of the music industry, Mr. Woods left private practice in 2005 to become Executive Vice President of Black Music at Casablanca Records. Mr. Woods reports directly to renowned music executive and Casablanca founder Tommy Mottola, and is responsible for identifying and developing new talent, coordinating the production, promotion and release of new music, and overseeing the record staff. Most important, Mr. Woods will stamp his dynamic urban music imprint of street knowledge and unparalleled industry success on the Casablanca label.

Mr. Woods, is a 1994 graduate of Howard University School of Law (J.D.), a 1991 graduate of Hampton University (B.A.), and currently is a member of the New York State Bar.
[»] Click here to read more.
LINDOKUHLE MNYANDU, Award Winning Film Maker



Lindokuhle Mnyandu is a Writer, Director, Producer and an Observer who lives and works in Centurion, Pretoria.

Born and raised in Umlazi, Durban. Lindokuhle studied Screenwriting with Gotham Writers` Workshop in New York City. He is currently finishing his studies in Drama and Film, and African Literature at the University of Witwatersrand, South Africa.

Lindokuhle's credits in film are many and he has worked in various aspects of film production including writing, directing and producing.

He founded MNYANDU FILMS, a film production company which focuses on producing documentaries, feature films and short films.

Controlling all aspects of production, from conception to completion, creatively and efficiently, Mr. Mnyandu wrote, directed and produced "a well-made and thought provoking" (Erik Gudris, Choices Inc., Los Angeles) film documentary titled, Bridging The Gap, his documentary about attitudes and perspectives of South African sojourners in the United States and what it means to be a patriotic South African. The film premiered at the Durban International Film Festival (June 15- 26, 2005), was screened at the Apollo Film Festival, South Africa (September 22- October 01, 2005) and was also screened at the Blue-November MicroFilmFest, Oklahoma where it won the Best Picture- Feature Film Award (November 04- 05, 2005).

MNYANDU FILMS is currently producing a documentary titled Families Under Attack, a film which looks at how illicit drug abuse, mainly methamphetamine affects families. Also in preproduction are two feature films; one about dynamics of the emerging black middle class and its behavior in South Africa, titled, Maar Why?. The second titled DEATH SENTENCE, is about rape, the sexual abuse of women and HIV/AIDS in South Africa.

Both productions are scheduled to slate towards the end of 2006.

Lindokuhle currently lives in South Africa with his wife and nineteen month old son.

[»] Click here to read more.
DAVID SAWYER, Accomplished Photographer




David Sawyer has been shooting still life in New York City for 18 years. He previously spent 2 years shooting in London & Milan.

David moved to the United States from Manchester England in 1983 to attend Columbia College for fine arts in Chicago and then Parsons School of Design in New York.

Some of his most recent clients include:

Vogue Pelle Nike
Vogue Gioiello Clinique
Departures Magazine L'oreal
Donna Karan/DKNY Bergdorf Goodman
Giorgio Armani Saks Fifth Avenue

David currently splits his time shooting between New York & Europe.
[»] Click here to read more.
STEPHANIE TAVARES-RANCE, Co-Founder of The Martha's Vineyard African American Film Festival


Stephanie Tavares-Rance began her career in entertainment in 1990, working in the A&R department at SBK/EMI Records. She eventually became the A&R Marketing Director and worked on award winning projects such as Frank Sinatra's Duets I and II, Prince, Jon Sescada, Gloria Estefan and many others.

In 1999, Stephanie became the Marketing Director at Larry Flint's Code Magazine, a short lived lifestyle magazine for men of color. Her marketing impact was immediate as she created strategic alliances with top notch celebrities and luxury brands. It was there and then that she realized that her calling was in event planning.

Stephanie eventually formed her own public relations and event planning company, Crescendo and she worked exclusively with such clients as Martell Cognac, HBO, Showtime and Vanguard Media.

From there Stephanie co-founded The Martha's Vineyard African American Film Festival (MVAAFF) with her husband Floyd Rance. MVAAFF is currently in its fourth successful year.

Stephanie currently lives in North Carolina with her husband Floyd and their two children.

[»] Click here to read more.
J TERRY EDMONDS, Assistant to the President and Director of Speechwriting for former President Bill Clinton



Mr. Edmonds served as Assistant to the President and Director of Speechwriting during the final term of President William Jefferson Clinton. In that capacity he was responsible for the production of all of the President's domestic policy speeches on such issues as education, transportation, race relations, welfare reform, health care reform, the State of the Union and the federal budget. Prior to assuming the leadership of the White House speechwriting office and beginning in 1995, Mr. Edmonds served as Deputy Director of Speechwriting for the President. He came to the White House after two years as Deputy Director of Speechwriting for HHS Secretary, Donna Shalala.

Terry Edmonds currently serves as Executive Speechwriter for Time Warner, Inc., the world's largest media company. In this capacity, he serves as the primary speechwriter for CEO Dick Parsons. He also serves as a senior member of Time Warner's corporate communications team, contributing to overall public relations strategy and message development.

Mr. Edmonds came to Time Warner in April, 2005 after serving for three years as Director of Editorial Management for AARP, the nation's largest advocacy and membership organization devoted to improving the lives of older Americans.

He is a graduate of Baltimore's Morgan State University.

In addition to his professional accomplishments, Mr. Edmonds has always believed in giving something back to his community. Born and raised in the inner-city projects of Baltimore, he has consistently reached out to young people and given inspirational talks to dozens of audiences, including elementary, high school and college students. In recent years, he has delivered speeches to audiences at the Johns Hopkins University School of Public Health, Harvard University's Kennedy School, Dartmouth College, Auburn University, Auburn University, Cuyahoga Community College, Howard Community College, Southside Academy Middle School, Morgan State University, the Las Vegas Chapter the International Association of Business Communicators and the Nevada Governor Points of Light Awards. [»] Click here to read the interview with Terry Edmonds.
JENNIFER LOUDEN, Best Selling Author and Media Personality




Jennifer Louden is an established media favorite, known for her humor, honesty, and ability to deliver tangible tips and heart-expanding insight with grace and passion. As a best-selling author of The Woman's Comfort Book and 4 other titles, she draws on a wealth of stories and experience to regularly enliven magazines like Woman's Day, People magazine, Health, Yoga Journal, Good Housekeeping, Shape, and Ladies Home Journal. Jennifer is also a contributing editor at Martha Stewart's magazine Body+Soul.

Jennifer Louden's media appearances have included the Oprah Show, Later Today, MS-NBC, CNN, Fit TV, and close to a hundred local news shows in most major markets. She is a leading spokeswoman for women's well-being.

[»] Click here to read more.
A HUNDRED YEARS FROM NOW


Dana asks "A Hundred Years From Now... What Do You Want To Be Remembered For?"

Here is what the Inspiring People she spoke to had to say...

[»] Click here to read more.
KENNY RUSHING, Real Estate Investor and Philanthropist



Born in Des Moines, Iowa, Kenny was the son of a former gang-banger who tried to make a decent living and a woman who eventually succumbed to the depression of a broken marriage. At the tender age of 14 Kenny found himself a desperate young man from the projects who would do anything to help his family. The streets beckoned and he soon became a drug king pin, making more money than he could ever dream of. The dream collapsed, of course, and Kenny was arrested, convicted and sent to prison where he remained for seven years.

Today, six years removed from incarceration, Rushing is a phenomenally successful real estate mogul, civic leader and devoted philanthropist. He is also a dynamic visionary with a plan to help a generation. "We are losing too many young, productive Black males to prison," Rushing says. "We have to reach out to this new generation and show them a viable alternative to selling drugs. Otherwise, we are going to lose them to the prison system."

Rushing's strategy? He wants to turn "street hustlers" into "house hustlers." It is, as he calls it, a "movement." The House Hustling Movement, which will educate, empower and inspire millions of disenfranchised African Americans. His company, Rehabber's Superstore, Inc., which was established soon after Rushing was released from prison, now grosses millions of dollars per year through real estate transactions and investments. In turn, Rushing gives back a substantial portion of that income to support local businesses and help individuals launch their own companies.

House Hustling Enterprises, Inc., a separate division of Rushing's parent company, provides the tools for others-particularly ex-cons and former street hustlers-to develop themselves and their communities through the real estate business. This part of the "movement" also includes a diverse number of ventures into entertainment (television and movie production); magazine publishing (House Hustling magazine); and Rushing's unique "self-help memoir" entitled House Hustling Manifesto Volume I that will be published in 2007.

Next on Rushing's ever-expanding agenda is the opening of a House Hustling Enterprises office in Los Angeles. Partnering with long-time movie and television producers Pamela and Mark McClafferty (the former head of Eddie Murphy's television company), Rushing is working to develop a reality TV show-The House Hustling Challenge-negotiate the publishing rights to his memoir, and look to take his story to the big screen.

Rushing and his wife, Katrice, have two children: Kayla, 4, and Kenneth III, 3. Rushing also has a 14-year-old daughter, Kennetria.

[»] Click here to read more.
IRENE CARA, Oscar Award Winning Actress, Grammy Award Winning Singer


Being Honored by the entertainment industry with an Academy Award, two Grammy's, a Golden Globe, plus a nod from fans via a People's Choice won all within the same year might, for some, be considered the pinnacle of a performer's career. For actress/dancer/singer/songwriter Irene Cara, who garnered all of these awards for co-writing and performing What a Feeling, the title song from the motion picture blockbuster Flashdance, it simply serves as an auspicious beginning to the productive years ahead.

As a child, she began working professionally singing and dancing on Spanish television. She went on to appear in various theatrical shows both on and off Broadway such as the Obie Award winning musical The Me Knowbody Knows and Maggie Flynn starring Shirley Jones and Jack Cassidy.

Her first national TV series was by way of a year's stint on the Electric Company, playing a member of the rock group, The Short Circus delivering musical grammar lessons through the educational program. The series starred Bill Cosby, Rita Moreno, and a very young Morgan Freeman. Ms. Cara had already recorded her first record in Spanish for the Latin Market by age 8 and a Christmas LP in English soon after.

As a pre-teenager, she starred in the title role of her debut motion picture Aaron Loves Angela which lead to the title role in the cult-classic musical drama Sparkle.

Ms. Cara is one of the select group of mega-talented performers who have successfully made the transition from theater-to television, -to records, -to feature films, having combined the latter with a recording career. Television brought Irene international acclaim for serious dramatic roles in two outstanding mini series, Roots: The Next Generation, the critically acclaimed adaptation of Alex Haley's moving novel and The Guyanna Tragedy: The Story of Jim Jones.

However, it was the box office smash Fame, in 1980, which catapulted Irene to stardom. As Coco Hernandez she sang both the title song Fame and the film's second hit single Out There On My Own, resulting in a multi-platinum soundtrack that shot to the top of the charts. She went on to make Academy Award history that year when, for the first time, two songs from one film were nominated in the same category. Additionally, Irene is the only performer ever to sing two Academy Award nominated songs, Fame and Out There On My Own in one evening. It would be Fame that would go on to win the coveted award that year.

Fame's impact, provided largely by Ms. Cara, brought her 1980 Grammy nominations for "Best New Female Artist" and "Best New Pop Artist," as well as a Golden Globe nomination for "Best Motion Picture Actress in a Musical." Billboard Magazine named Irene "Top New Single Artist," while Cashbox awarded her both "Most Promising Female Vocalist" and "Top Female Vocalist."

In 1982 she received the Image Award for Best Actress when she co-starred with Diahann Carroll and Rosalind Cash in the NBC Movie of the Week, Sisters . Further demonstrating her diversity, Irene portrayed Myrlie Evers in the PBS movie about Civil Rights Leader Medger Evers.The film called For Us the Living, cast Irene opposite Howard Rollins of A Soldier's Story fame in which Miss Cara received an NAACP Image Award Best Actress nomination for her portrayal as Mylie Evers.

In 1983, for her success with Flashdance, She was presented with five major awards, including "Top Female Vocalist-Pop Singles,""Black Contemporary Female Vocalist-Pop Singles,""Top Pop Crossover Artist-Black Contemporary Singles," and "Pop Single of the Year." As a songwriter Irene's talent earned her an Academy Award, two Grammy's, a Golden Globe and a People's Choice Award for Flashdance...What a Feeling.

In 1985 she starred opposite Clint Eastwood, Burt Reynolds and Richard Roundtree in the Warner Brothers gangster comedy City Heat in which Irene played a speak easy night club singer. Ms. Cara co-wrote the movie's theme song sung by the legendary jazz vocalist Joe Williams.

She is currently working on a new CD with an all female band of the most talented musicans very aptley called Hot Caramel.

Irene currently has several movie scripts in development.

[»] Click here to read the interview with Irene Cara.


ELISABETH WITHERS-MENDES, Broadway Star of The Color Purple


Elisabeth Withers-Mendes is making her Broadway debut starring as Shug Avery in The Color Purple. She has recorded and performed with artists Luther Vandross, Cher, Celine Dion, Henry Krieger, Narada Michael Walden and others. She sang on the steps of the White House with Quincy Jones and Steven Spielberg for "The 2000 Millennium Concert." She co-wrote the single "Emotions" which held the #1 spot on the Billboard Music Charts for three weeks straight (BMG Records).

Elisabeth's TV credits include one of the Vowels on the hit children's show "Between the Lions" (PBS TV) and Sweet Tree & Morgan on NBC's "Late Night Show with Conan O'Brien."

Ashford & Simpson recommended Elisabeth to Quincy Jones for the role of Shug. Elisabeth thanks God, her loving husband, little daughter and her beloved family. She holds a BS from Berklee School of Music and a Master's degree from NYU.

[»] Click here to read more.
NAN GRAHAM, Editor-in-Chief



A native Midwesterner, Nan Graham is the Editor-in-Chief of Scribner, a Simon and Schuster Company.

Nan is responsible for the editing and publishing of such extraordinary books as Angela's Ashes by Pulitzer Prize winning author Frank McCourt, Living History by Hillary Clinton, The Noonday Demon by Andrew Solomon and Brick Lane by Monica Ali.

Nan also works with such critically acclaimed authors as Toni Morrison and Salman Rushdie.

But among her biggest and most important accomplishments are her children, ten year old Henry and Delia who is seven.

Nan, Henry, Delia and "Dad" Mark make New York City their home.

[»] Click here to read the interview with Nan Graham.
VAL ACKERMAN, Founding President of the WNBA


Val Ackerman, the founding president of the Women's National Basketball Association (WNBA), is currently the first woman President of USA Basketball.

A 1981 UVa graduate where she was a four-year starter for the women's basketball team and a two-time Academic All-American, Val earned a degree in political and social thought. She has been a member of the USA Basketball Board of Directors since 1990 and she was the driving force behind the creation of the historic 1995-96 USA Basketball Women's Senior National Team program that culminated with a perfect 60-0 record and the gold medal at the 1996 Atlanta Olympics.

[»] Click here to read the interview with Val.
CHAD COLEMAN, From HBO Series The Wire



Chad L. Coleman is best known for his stirring portrayal of Dennis "Cutty" Wise on HBO's critically -acclaimed series "The Wire". But this highly seasoned veteran of stage, television, and film has an extensive resume that includes sharing the stage with Willem Dafoe, Robin Williams, and Mia Farrow. He's guest starred on "Numbers", "Law &Order(SVU)", "Hack", and "New York Undercover", to name a few. Chad is dedicated husband, father and man of faith who has given generously of his time to help his fellow man. He's gone into schools and prisons to inspire young people, encouraged the brave children of the Special Olympics, and helped to raise scholarship funds for Future Scholars of Virginia, alongside Tim and Daphne Reid.

His life personifies his belief that "I can do all things in Christ who strengthens me". As a producer, he's currently developing a documentary on five inner city kids of west Baltimore who are trying to beat the streets, to become "Silver Glove Boxing Champions", and the ex-con who trains them. He is also working on an indie film starring along with Bokeem Woodbine, Lynn Whitfield and Clifton Powell.
[»] Click here to read more.
DAVID PALADINO, Ovation Award Winner, Playwright and Actor



In 1999, David made his life-changing discovery which lead to many other discoveries and a national radio interview.

In May 2002, David's life story aired nationally on NPR's Award Winning Radio Show - This American Life. The 'This American Life' interview about David's life story has led to offers for its film/television rights.

[»] Click here to read more.
LENORE BILLINGS-HARRIS, President of the National Speakers Association



Lenora Billings-Harris, CSP is an internationally recognized speaker, multicultural diversity expert, and author with more than twenty-five years experience in the public and private sectors. She served as an adjunct professor for Arizona State University, and is currently on the adjunct faculty of University of North Carolina-Greensboro. Lenora has presented to audiences in South Africa, Spain, Germany, Belgium, Russia, Ukraine, Mexico and Canada.

Lenora received her MA from The University of Michigan and her BS from Hampton University. She presently serves as President of The National Speakers Association, and the board of Win Win Resolutions, a non-profit organization in North Carolina that teaches k-12 students how to resolve conflict without violence.

Lenora is the recipient of numerous awards and recognitions for her business successes as well as her civic activities. A few include being listed in the International Who's Who of Professionals, Who's Who in the West and Outstanding Young Women of America. She has won the Outstanding Marketing Awards from, formerly Carlson Learning Company, now Inscape Publishing, eight times.

[»] Click here to read more.
LEVY LEE SIMON, Award Winning Playwright



Originally from Harlem in New York City, award winning actor, screenwriter and playwright, Levy Lee Simon is a graduate of Cheyney State College and the University of Iowa's Playwright's Workshop where he received his MFA in playwriting in 1999. He was a Visiting Professor of Theatre at the University of Iowa from 1999-2001.

Levy Lee is the author of over twenty plays which have been produced and read in theatres around the country. He is the author of the For the Love of Freedom trilogy co-produced by Danny Glover's Robey Theatre and the Greenway Arts Alliance in Los Angeles. Part III in the trilogy, Christophe - the Spirit - Passion and Glory was recently nominated for six 2006 NAACP Awards including a nomination for 'Best Playwright.' Part II, Dessalines - the Heart - Blood and Liberation garnered Levy Lee an Ovation Award nomination for 'Best New Play,' of 2003. Part I, Toussaint - the Soul - Rise and Revolution was nominated for ten NAACP Awards in 2001 including a nomination for "Best Playwright.' All three plays were directed by Ben Guillory Co-Artistic Director of the Robey Theatre. Levy Lee's play, The Bow-Wow Club is the winner of the 1998/9 Lorraine Hansberry Award for, 'Best Full Length Play' awarded by ACTF and the Kennedy Center. His play CASELOAD opened this month and will run through May 20th, 2006 at the Workshop Theatre. Another of his plays, The Smoke King about the life of WEB Dubois, will tour colleges and theatres in the fall of 2006 featuring actor Charles Holt as WEB Dubois. Other notable plays and works in progress by Simon include, Same Train, The Guest at Central Park West, Letters from the Pen, The Real Roxanne, Wolves Over Hollywood, The Drama That Was Us, The Trial of Superfly, and more.

As a screenwriter Levy Lee's adaptation of The Bow-Wow Club, was optioned by FOX Searchlight and Forest Whitaker's Spirit Dance production company.

Among his many acting roles, he was a cast member in the Pulitzer Prize winning, Tony Nominated Broadway production of The Kentucky Cycle and played Caleb Humphries in David Feldshuh's Miss Evers' Boys, at Santa Fe Stages, the Barbican Theatre, and The Bristol Old Vic in England.

[»] Click here to read more.
MICHELLE DRAYTON-MARTIN, President and Publisher, Today's Child Communications, Inc.



Ms. Drayton-Martin holds a Master's Degree in public health from Hunter College and a Bachelor's of Science in nursing (pediatric concentration) from the City University of New York. She also holds certificates in executive management and public policy from Columbia University's School of Business and the Center for Women in Government, respectively, and has studied publishing at New York University. A well-respected, high profile expert in the maternal/child health field, she has been featured in numerous media outlets, including Good Day New York, Reader's Digest, WLIB and The Medical Herald, and has been published in the book "Helping the Hard-Core Smoker." Michelle is a member of the Auxiliary to the National Medical Association and serves on the boards of the Child Care Institute; Brooklyn Perinatal Network; African-American Well Being Project; and the National Communications Advisory Council of March of Dimes. She is a member of the Coalition for 100 Black Women; and is a member of the First Day Coalition headed by the United Way of NYC. Ms. Drayton-Martin was recently named a "Phenomenal Women," by Emmis Communications' Kiss FM program.

Michelle is excited about Today's Child Communication's focus on enhancing the lives of black and other families of color across America. The company's products help to strengthen families, through media related products and services.

[»] Click here to read more.
TRACE GAYNOR & STEPHEN SOTOR, 13 year old independent filmmakers



Recently, I discovered something that I think I should share. I discovered a story about two 13 year old boys, Trace Gaynor and Stephen Sotor, who live in Chicago and decided to make a film about -

choices and about being responsible. Their film is about consequences and hope; about compassion and better days because it is about considering life beyond what works for you, personally.

The film is called Genie in a Bottle: Unleashed and -

I am inspired.

As a result, this week Inspiring People will look a little differently so that I can share their film with you. My hope is that, if it makes a difference with you, it can make a difference worldwide.

Please take a moment to watch what these inspiring and remarkable 13 year olds have to contribute.

Take a moment to watch Genie in a Bottle: Unleashed [»] Click here to read more.
DANA ASKS: A hundred years from now, what do you want to be remembered for?


Interviewing people for our Inspiring People feature is fast becoming one of my favorite things to do. And my favorite question is a question that I ask everyone at the end of every interview:

A hundred years from now, what do you want to be remembered for?

Because I have enjoyed the answers to this question very much, I decided to include some of the answers together for you to enjoy as well.

Here is what the Inspiring People that I have talked to had to say... [»] Click here to read more.
NICK CATES, Emmy Award nominated television producer


Emmy Award nominee Nick Cates is Executive Producer of Original Specials at E! Entertainment Television. As a graduate of USC, majoring in broadcast journalism Nick realized early on that his future was in television.

He is a member of the Producers Guild of America and the Televison Academy of America

Nick has a passion for business, particularly real estate. As such, he is an avid real estate investor.

Nick currently lives with his wife in Los Angeles.

[»] Click here to read the interview with Nick Cates.
SUZANNE KAY, writer and award-winning movie producer



Daughter of show business legend Diahann Caroll, Suzanne Kay grew up around the entertainment business. After graduating from Columbia University with a Masters degree in journalism, Suzanne worked as an intern for the McNeil-Lehr News Hour on PBS. She went on to become a news writer for CNN in Atlanta and later, Arts and Entertainment editor for Essence Magazine.

Comfortable both behind and in front of the camera, Suzanne soon found herself as an on-air-co-anchor of ETV!'s first entertainment news program with co-anchors Greg Kinnear and Julie Moran. Following that she worked as a TV scriptwriter for several Fox TV sitcoms before beginning work as a freelance screenwriter. In 1999 she co-wrote and produced the award winning short film Hero, directed by her husband and collaborator Mark Bamford. Suzanne is also founder of the production company, Wonder View Films.

[»] Click here to read the interview with Suzanne Kay.
J PRAIZE, Mega Hit Rap music producer



From Supervisor at the Main Post Office in New York City's Manhattan, to successful rap music producer, J Praize has a story that is as charming as it is inspiring.

J Praize was born a twin and number fourteen in a family of fifteen children. After earning an Associates Degree from John Jay College of Criminal Justice, he served in the United States Air Force. As a result of an injury, he was honorably discharged. Then, while visiting some friends in Hampton Virginia, he "caught the producer bug" and began a journey that would result in his producing the first hit single for hip hop superstar, 50 Cent.

That song is the #1 hit, Wanksta.

[»] Click here to read the interview with J Praize.
RHONDA ROSS, Daughter of legendary singer, Diana Ross


Rhonda Ross, daughter of the legendary songstress, Diana Ross, is a writer, vocalist and an actress. Her most famous acting credit is on Another World, as Toni Burrell. She played the role from 1997 to 1999 and was nominated for a Daytime Emmy Award.

Rhonda is also very passionate about real estate. She currently works for Citi- Habitats, in New York City, where she sells and rents homes.

A graduate of Brown University, she is married to jazz musician Rodney Kendrick, and together their most recent albums are top sellers on CDbaby.com and other music sites.

[»] Click here to read the interview with Rhonda.
TERRIE WILLIAMS, Public Relations Guru



Public relations manager, Terrie Williams, has handled some of the biggest names in entertainment, sports, business and politics. The likes of Janet Jackson, Russell Simmons, Sean "P. Diddy" Combs, Johnnie Cochran, the Rev. Al Sharpton, Time Warner, HBO, and Essence Communications Partners have retained Terrie's services.

Today her Agency is a division of PGP Communications (of which she is vice-chair), a multi-media firm that develops cause-related campaigns for personalities, products and entities.

[»] Click here to read the interview with Terrie.